Backcountry Office, Regulations & Trails
| | |
| --- | --- |
| This page is an index to the various backcountry trails and also contains information on how to obtain a backcountry permit. | |
&nbsp

Backcountry
Permits
Apply on
or after:
For dates
through:
January 1
May
February 1
June
March 1
July
April 1
August
May 1
September
June 1
October
July 1
November
August 1
December
September 1
January
October 1
February
November 1
March
December 1
April
All overnight trips require a permit from the BCO (Backcountry Office). Permits must be obtained through the mail or in person and should be obtained as far in advance as possible. Beginning with the first day of a month, permit requests are accepted for a proposed trip start date in that month and the following 4 months. For example, beginning on December 1, 1993, permit requests for any start date through April 30, 1994 would be accepted. The envelope postmark will be the date used to determine the validity of requests received by mail.
The Backcountry Office is no longer located next to the Laundry & Showers and Mather Campground but rather in the new Maswik Transportation Center. The Maswik Transportation Center is located just across the railroad tracks from Maswik Lodge off of the Village Loop Road.
Information, Deadlines, and Constraints:
Canyon hikers are fully responsible for knowing and obeying all regulations. Backpackers are responsible for their own safety and for costs should a rescue be initiated. Please research carefully as you plan for a safe trip.
After January 14, 1997, as part of the Grand Canyon National Park and the NPS Recreation Fee Demonstration Program, the following fees will apply: There will be a non-refundable charge of $10 per permit plus $5 per person per night. Frequent users may wish to purchase a one year frequent hiker membership for $25. This membership will waive the initial $10 fee for each permit obtained by the member trip leader. The membership is valid for a calendar year from the date of purchase.
The fee structure for Backcountry Permits was changed on February 1, 2000.
When sending in a permit request, the preferred method of payment is through a Visa or MasterCard. Please be sure to indicate the maximum amount you authorize the Backcountry Office to charge so that your longest trip alternative can be considered.
Permit requests are not accepted by telephone. After January 14, 1997 requests can be Faxed to 928-638-2125.
Permit requests are considered when postmarked or faxed (after January 14, 1997) no earlier than the first of the month four months before a start date. For example, requests postmarked on or after June 1, 1997 can ask for start dates through October 31, 1997. It is common for the Backcountry Office to receive between 100 to 300 letters per day for the first 1 to 3 weeks that a month opens; please allow between 3 and 6 weeks for your request to be processed. While the validity of a request is determined by the date sent, requests are processed by the Backcountry Office in the order received. Written requests received on the same day are processed randomly.
In person requests are also considered no earlier than four months before a start date on the first of the month. For example, a visitor who comes to the Backcountry Office on February 1st can request a specific trip starting as late as June 30th. Walk-in requests (limited to 3 requests per person) are processed immediately. Additional written requests are considered to be hand delivered mail, and these will be placed in our stacks in the order received. The South Rim Backcountry Office is open from 8 a.m. to 12 noon and after January 14m 1997 from 1 p.m. to 5 p.m. Mountain Standard Time.
Additional written information may be obtained by writing to the Backcountry Office or calling 928-638-7888 [Press 1-4]. A voice mail system will handle your call and recorded messages are available to answer most questions. If you wish to speak to a Backcountry Ranger, you can call direct at 928-638-7875. Phones are answered 1 p.m. to 5 p.m. MST, Monday through Friday except holidays (Arizona does not observe daylight savings time). Please realize this is an extremely busy phone line, and you may need to try several times before you are successful in getting through.
The North Rim Backcountry Office is open from 8 a.m. to 12 noon and from 1 p.m. to 5 p.m. from approximately mid May through late October. Due to severe weather, the North Rim is closed at other times. Access is subject to road closures beyond the control of Grand Canyon National Park.
Each permit request should contain the following information:
the name, address and telephone number of the person leading the trip;
the name of the company or organization sponsoring the trip;
the number of hikers (and livestock, if any) in the party;
camping locations and backcountry Use Area codes for each desired date (night).
camping locations and backcountry Use Area codes for alternate dates in case the first is not available.
Click here for the official Grand Canyon Backcountry Office copy of the form (Excel format).

Click here for a straight text version of the permit request form.

Click here to generate a permit request on-line (server CGI version).

Click here to generate a permit request on-line (local JavaScript version).

Click here to generate a permit request on-line using the Backcountry Trip Planner (also requires a JavaScript enabled browser).

Permit requests should be mailed to:

Backcountry Office
Grand Canyon National Park
P.O. Box 129
Grand Canyon, Arizona 86023
People without a permit may be able to obtain one upon their arrival, in person, at the Backcountry Office. However, permits are very difficult to obtain during popular seasons. A small number of Corridor campsites are held for "in person" permit requests. The number is variable and dependent upon overall Corridor use. Permits for these campsites are issued on a first-come/first-served basis beginning at 8:00 a.m.
When demand for these campsites exceeds supply, a waiting list is maintained at the Backcountry Office. The trip leader may place his or her name on the waiting list by coming into the Backcountry Office. A person may participate in the waiting list for as many consecutive days as are necessary to obtain a permit. HOWEVER, THE PERSON ON THE WAITING LIST MUST BE PRESENT AT THE BACKCOUNTRY OFFICE AT 8:00 A.M. MOUNTAIN STANDARD TIME EACH DAY IN ORDER TO MAINTAIN THEIR POSITION ON THE WAITING LIST.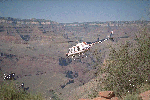 Don't make them come looking for you!
Talk with other Grand Canyon hikers and backpackers at

Backcountry hikers are responsible for their own safety. When you enter the Grand Canyon you are leaving the modern world and all of its conveniences behind. If you get into trouble in the backcountry you are on your own. Make sure that you know your limits and do not try to exceed them. Be prepared for any situation.
Although some people who are well conditioned and in remarkably good shape are capable of hiking to the Colorado River and back in one day, this is beyond the limitations of most people and usually results serious injury and sometimes death. This activity is discouraged by the Park Service regardless of a persons conditioning. A trip to the Colorado River should take at least two days.
The Park Service recommends that you not hike solo and prefers that you hike in a group of at least three people. The reason for this is that if someone becomes injured one person can remain with the injured party and the other can go for help. Cellular phones do not work below the rim. Make sure that you have a signal mirror in your possession and that you know how to use it. Make sure that you always have extra food, water and clothing in the event that an emergency forces you to remain in the backcountry longer than you intended.
If the Park Service Search and Rescue team is required to come in and bring you out you can expect to receive a bill for the service that may cost thousands of dollars. Your medical insurance may or may not cover this but you are responsible for this fee regardless.

Horses are allowed in the Canyon on the Bright Angel, South Kaibab and North Kaibab Trails only. Horses are not recommended due to the high heat and the fact that most horses are not in good shape. This is one of the reasons that the Park Service uses mules.
Horse camps are located on the South Rim, North Rim, Bright Angel Campground, and Cottonwood Campground. For those that are interested they must obtain a Backcountry Permit like any other hiker and put down the Number of stock. Maximum is 5 head of stock.
| South Rim Trails | |
| --- | --- |
Maintained trails

Unmaintained trails

Wilderness trails

Trails along the River and on the Tonto Platform
| North Rim Trails | |
| --- | --- |
Maintained trails

Wilderness trails

Routes
| Bob's Grand Canyon Trip Reports | |
| --- | --- |
October 2008 - Ottoman Amphitheatre
October, November 2007 - New Hance, Escalante and Beamer to Little Colorado River
April 2007 - Clear Creek backpacking trip
September 2006 - Ken Patrick, Old Bright Angel and North Kaibab Loop plus Widforss Trail
April 2006 - Nankoweap backpack plus Drippings Springs and Horseshoe Mesa day hikes
December 2005 - South Kaibab, North Kaibab, River and Bright Angel trails
October 2005 - Indian Hollow, Cranberry Canyon & Kanab Canyon
April 2005 - Nankoweap, Mystic Falls, Kolb Arch and Little Nankoweap
May 2004 - Phantom and Haunted Canyons
May 2004 - Bright Angel Campground, Phantom Ranch & Phantom Canyon
March 2004 - Hermit and Tonto to Monument Creek, NPS Tamarisk Control Work Project.
October 2003 - South Kaibab to Phantom to Kwagunt to Tanner
May 2003 - Thunder River and Deer Creek
April 2002 - Point Huitzil, Royal Arch, Tonto, South Bass
October 2001 - GCHBA Bright Angel, Phantom & Clear Creek Work Project
April/May 2001 - Phantom & Haunted Canyons
April 2001 - South Bass, Royal Arch
September 2000 - Nankoweap Trail & Nankoweap Butte
September 2000 - North Bass, Shinumo Amphitheatre, Lancelot Point.
June 2000 - Grand Canyon Pioneer's Annual Picnic
October 1999 - Swamp Point, Muav Saddle, North Bass Trail & Shinumo Creek
September 1999 - Dripping Springs dayhike
March 1999 - South Kaibab, North Kaibab, Clear Creek, Bright Angel
December/January 1998 - South Kaibab, Utah Flats, North Kaibab & Bright Angel
June 1998 - GCPS picnic, GC Star Party, Indian Gardens Hike
April/May 1998 - South Bass, Elves Chasm, Tonto, Boucher
September 1997 - Dripping Springs dayhike, Clear Creek backpack & Toroweap overlook
May 1997 - River Trip - "The Trip Of A Lifetime"
May 1996 - South Kaibab, Clear Creek, Bright Angel
September 1995 - Zion, Grand Canyon and Bryce Canyon National Parks
May 1995 - Bill Hall, Thunder River, and Deer Creek trails
December 1994 - Tanner, Beamer and Escalante trails
May 1994 - Hermit, Tonto, Boucher and Dripping Springs trails
November/December 1993 - Grandview, Tonto, South Kaibab, Clear Creek, Bright Angel
December 1992 - Red Canyon, Escalante, Tonto, Grandview
December 1991 - Hermit, Tonto, Bright Angel Trails
September 1991 - Grandview Trail
September 1991 - Red Canyon (New Hance), Tonto, Grandview Trails
December 1990 - South Kaibab, North Kaibab, Clear Creek and Bright Angel Trails
July 1989 - Rim-To-Rim on the Bright Angel and North Kaibab Trails
November 1988 - South Kaibab, Tonto and Bright Angel Trails
December 1987 - Bright Angel and South Kaibab Trails
Copyright © Bob Ribokas, 1994-2008, all rights reserved. This publication and its text and photos may not be copied for commercial use without the express written permission of Bob Ribokas.