In May, 1997 Robin and I took a 13 day trip down the Colorado River through the Grand Canyon with O.A.R.S., the Outdoor Adventure River Specialtists. The trip began on May 17 at Lee's Ferry and ended at Diamond Creek, on May 30. During this 13 day period we covered some 226 river miles and travelled through approximately 2 billion years of the Earth's geologic history. We also ran some awesome rapids, enjoyed the companionship of some truly wonderful people, day-hiked some of the most picturesque side canyons that the Grand Canyon has to offer and treated our taste-buds to the fantastic culinary creations of the Canyon's most amazing chefs.

The links below describe the people who took The Trip, both paying passengers (The Travelers) as well as The Guides. The Trip Map link will display a clickable image map of the Canyon which has been marked-up with our campsites for each night. The Trip Log also allows you to access the report for each days activities.

It should be mentioned here that virtually no Canyon trip is the same as any other. There is no set itinerary for where a group will camp each night and no set itinerary for what you will do each day. Some things, like good runs in the major rapids, you can count on, but most other things you cannot. I personally had hoped for a hike up Clear Creek and an up-and-over hike at Thunder River / Deer Creek and got neither of these. Where you camp and what you see depends on a number of factors, among these being: how many other groups are on the river; which of these groups gets where first; the weather conditions; the flow rate of the river; and the preferences of the river company which you use and the guides who are employed by them. O.A.R.S. and our guide, Robby, did a wonderful job in conducting this trip and even though I did not get to do everything that I had originally hoped to do, I have no complaints.
The Trip
Trip Log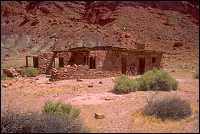 Fort Lee at Lee's Ferry