Trail Description : River Trail
The River Trail connects the northern ends of the Bright Angel Trail to the South Kaibab Trail. Some people still consider this to be part of the Bright Angel but technically that trail ends where it reaches the river.
There is not much in the way of elevation change along the River Trail, but in some spots it climbs up pretty high up above the river. It also crosses a few areas with sand dunes that can be rather difficult to traverse with a heavy pack.
Mileages are as follows (one-way):
---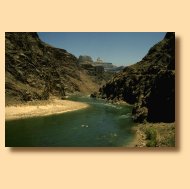 Colorado River from River Trail (JPG, 64K)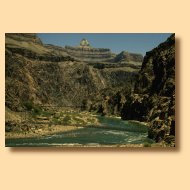 Colorado River, Silver and Kaibab suspension bridges, from River Trail (JPG, 72K)
Copyright © Bob Ribokas, 1994-2008, all rights reserved. This publication and its text and photos may not be copied for commercial use without the express written permission of Bob Ribokas.