| Maswik Lodge | |
| --- | --- |
Open all year. At Grand Canyon Village in southwest area of village about 1/4 mile from rim. Accommodations vary from rustic cabins to modern motel units. Cafeteria serves a variety of ethnic foods.
288 units, Check-in 4:00 PM, 125 C/CATV, phones, comb or shower baths.
Cafeteria; 6am - 9pm; cocktails; cocktail lounge.
Rate info as of July, 2001:
The seasonal cabins are $64 and the room rates range from $76 to $119, plus tax, based upon double occupancy. Add $7 for each additional person in a cabin, $9 for each additional person in a room. Children under 16 stay free, in a room with an adult. Winter rates and packages are available. Reservation deposit required.
Pets are not permitted in guest rooms and must be boarded at the kennel.
---
Credit Cards: American Express, Discover, Master Card, VISA.
Phone: 303-297-2757 FAX: 303-297-3175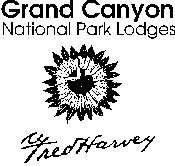 Copyright © Bob Ribokas, 1994-2001, all rights reserved. This publication and its text and photos may not be copied for commercial use without the express written permission of Bob Ribokas.