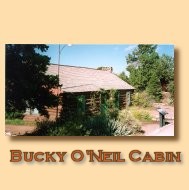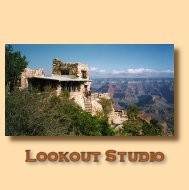 Continuing west along the rim trail from the Bright Angel Lodge you will pass the Bucky O'Neil cabin, and the Lookout Studio before coming to the Kolb Studio. A visit to the Kolb Studio is a must. The studio was originally built and operated by the Kolb brothers, Emery and Ellsworth, and has a very interesting history. The Grand Canyon Association is in the process of renovating the building and currently operates a book store in the front room and all of the proceeds from sales made here go directly to restoration costs for the studio. In the auditorium you will normally find some sort of exhibit relating to the cultural and/or geologic history of the Grand Canyon. An exhibit that ran recently was entitled "Traditional Native American Basketry and Contemporary Weaving".
---
---
If you continue west from the Kolb Studio you will shortly arrive at the trailhead for the Bright Angel Trail. Beyond this point the rim trail continues all the way to Hermit's Rest which is still some 8 miles away. I have done it before and it is an excellent walk but may be a little too much for some people. From late spring to early autumn the park service operates a shuttle bus along the Hermit Road that stops at all of the overlooks. This service is provided free of charge. During this season the Hermit Road is closed to automobile traffic. You can also rent bicycles in the village and tour the West Rim and be "green" at the same time. During the off season your only choices are doing it on foot or in your car.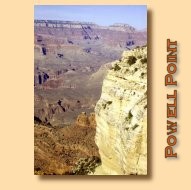 There are many fine overlooks along the Hermit Road, the one pictured here being the Powell Point overlook. The overlooks that you will pass from from the village on your way to Hermit's Rest are as follows:

---
---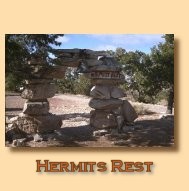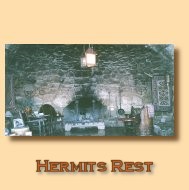 At the end of the Hermit Road you will come to Hermit's Rest. This is the end of the road unless you want to take to the trail. The trailhead for the Hermit Trail starts about 1/4 mile down the dirt road that continues to the west.