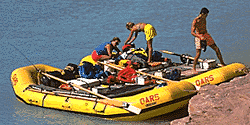 Come Join "The Trip of a Lifetime" and Raft the Mighty Colorado River
---
Robin and I will be rafting the Colorado River through the Grand Canyon in May of 1997. We will be going with O.A.R.S. (Outdoor Adventure River Specialists), the premier company for rafting trips not only through the Grand Canyon but most western whitewater rivers.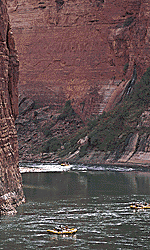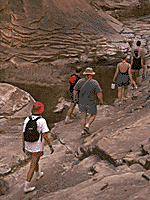 The trip will be 15 days in length and will begin on Sunday, May 18, 1997 in Flagstaff, Arizona. If you plan to go you will need to spend the night before (Saturday, May 17) in Flagstaff as an orientation program will be conducted by the people from OARS. On Sunday morning the people from OARS will be taking us to Lee's Ferry, where the actual river trip will begin. It will end 15 days and 280 river miles later on Sunday, June 1, 1997 at Pearce Ferry on the upper end of Lake Mead.
The days of the trip will combine both river running of the Colorado River with explorations of the inner depths of the Grand Canyon. Most of the river running is done in the late morning and early afternoon, with the late afternoon being available for day hiking and exploration of the many side canyons which spill into the main gorge of the Colorado. The people from OARS are expert guides and will take very good care of us.
All meals are included and from what I've heard from people who have taken the trip, you should expect to gain some weight. Full breakfasts are served every morning before taking to the river, followed by a lighter lunch around mid-day. The evening meals are typically gourmet creations designed to complement the days adventure. A limited (and rationed) amount of soda (tonic, pop, whatever) and beer is also brought along and you are also allowed to bring your own, so long as it is not an excessive amount and it can be packed securely into the rafts.
The cost of the trip is $3,020 per person which is exclusive of air fare. Special air rates can be obtained through OARS. If you are interested in joining this "trip of a lifetime" and want more information, you should contact the people at OARS via their web site or at the address or telephone number below.
Two less expensive options are also available but they require you to either leave the party at Phantom Ranch and hike out to Grand Canyon Village on the rim via the Bright Angel Trail (9 miles, 5000 foot ascent) or hike in and join the party at that point. The cost for the upper portion of the trip (Lee's Ferry to Phantom Ranch) is approximately $1,350 and the cost for the lower portion (Phantom Ranch to Pearce Ferry) is approximately $2,182. The bigger whitewater, including Crystal Rapids and Lava Falls, are on the lower portion of the trip.
O.A.R.S.
P.O. BOX 67
ANGELS CAMP, CA 95222
Phone: 1-800-346-6277
Disclaimer : I do not work for OARS and I do not make anything off of this trip, we pay the same price as everyone else. I am not responsible for any mishap you should encounter or accidents that you might have on this trip and OARS will make you sign a form releasing them from any liability as well. Trip insurance for this type of adventure is a VERY GOOD IDEA.
---
[ Grand Canyon Home : Maps ]
---
Copyright © Bob Ribokas, 1996, all rights reserved. This publication and its text and photos may not be copied for commercial use without the express written permission of Bob Ribokas, ribokas.bob@teradyne.com.