BECOME AN ASSOCIATE NATURALIST AT GRAND CANYON NATIONAL PARK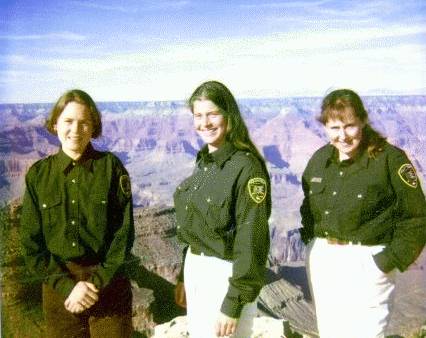 Grand Canyon National Park is looking for motivated, enthusiastic individuals to work as Associate Naturalists. We are currently accepting applications for volunteer positions in Interpretation, Library, and Museum Collection.
Interpretation: Share your knowledge and enthusiasm with Grand Canyon visitors! As an Associate Naturalist in Interpretation, you will have the chance to develop and present educational programs to help visitors understand and appreciate this natural treasure. Possible topics include human history, ecology, geology, and environmental issues at the Canyon. You will also interact with visitors in less formal settings, such as answering questions at an information desk. Positions are available at the Village District, Desert View, and the North Rim.
Village District:
Located in Grand Canyon Village at an elevation of 7000 feet, this is the busiest of the three locations, but also has the most positions available. Expect to do a lot of visitor contact!
February - May (4 positions)
May - August (4 positions)
August - November (4 positions)
November - February (4 positions)
<!table bgcolor="#ffffff" cellpadding=10><!tr><!td> <!b> <!Grand Canyon is currently in need of four Associate Naturalists for the March, 1999 through May, 1999 time period.><!/b> <!/td><!/tr><!/table> <!p> Desert View:
Located approximately 25 miles east of the Village, this site is somewhat less busy than the Visitor Center. A large portion of the interpretation focuses on American Indian history.
February - May (1 position)
May - September (1 position)
August - November (1 position)
North Rim:
At an elevation of 8000 feet, the North Rim is cooler and only open from May until October due to harsh winter weather. It is considerably less crowded but also much more remote.
Mid-May to Mid-September (1 position)
---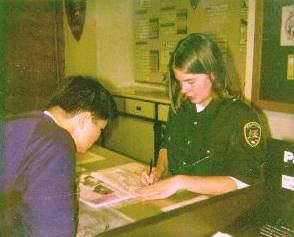 DETAILS OF THE ASSOCIATE NATURALIST PROGRAM
How much will I earn?
An Associate Naturalist earns a stipend of $15 per work day. We also offer a small transportation allowance (22 cents per mile, one-way, up to $600) to help defray the cost of traveling to Grand Canyon.
Is housing available?
Housing is extremely limited at Grand Canyon National Park. A small number of shared housing units may be available for Associate Naturalists. A park representative will be able to answer questions about housing availability if you are contacted for a position.
Do I need to have a car?
If you are working at Desert View or North Rim, a car would be highly advisable because of the remoteness of those locations. If you are working at the Visitor Center, a bicycle might be adequate because of the relatively close proximity of groceries, post office, bank, etc., in Grand Canyon Village. Keep in mind, however, that a car could be very useful to explore the numerous sights surrounding Grand Canyon National Park.
---
How to Apply:
To apply for an Associate Naturalist position at Grand Canyon National Park, please submit a resumé and a cover letter. Your resumé should include your name, address, telephone number, the names of any colleges and universities attended, and a brief synopsis of your work experience and volunteer experience. In your cover letter, please state which positions you are applying for, when you are available, and provide the names of at least two references (preferably former or current supervisors). Also, please answer the following three questions (one paragraph for each):
Why do you want to come to Grand Canyon National Park and perform the work of an Associate Naturalist?
What special qualities or interests do you have which would make you an asset to the Associate Naturalist Program?
What would you hope to gain from an Associate Naturalist position?
Please send your application materials to:
Associate Naturalist Program
Division of Interpretation and Visitor Services
Grand Canyon National Park
P.O. Box 129
Grand Canyon, AZ 86023

If you have any further questions, please contact Jon Sudar by e-mail at Jon_Sudar@nps.gov
Thank you for your interest in the Associate Naturalist Program at Grand Canyon National Park.
Copyright © Bob Ribokas, 1994-2005, all rights reserved. This publication and its text and photos may not be copied for commercial use without the express written permission of Bob Ribokas.