Monday, November 27, 2000
This tribute page was first setup after exchanging a couple of e-mails with Bob Spangler, Sharon's husband, back in February of 1998 and I've been trying to figure out what to do about it for several weeks now. It used to have a tribute to Sharon from her husband, Bob, but now, that no longer seems appropriate. Sharon was Bob Spangler's second wife and he has recently confessed to killing his first and third wifes and Sharon's death was rather mysterious as well so draw your own conclusions. Bob Spangler shot his first wife, Nancy, and two children, Susan and David, and pushed his third wife, Donna, off of a cliff on the Grandview Trail in the Grand Canyon. More information on this can be found at the following links:
The tribute to Sharon, however, is still very appropriate as she is the first person to really inspire me, as well as countless others, to take up backpacking in the Grand Canyon. After reading her book, On Foot In The Grand Canyon, I could not wait to take my first backcountry trip there. The book is so practical and down-to-earth that she makes it seem like just about anyone, with just a little common sense and foresight, can do it. Sometimes it seems like even Sharon left the common sense at home but the fact that she tells people about her mistakes as well as her successes just make the book that much more enjoyable.
I can not remember how many people have e-mailed me with additional questions about the Grand Canyon backcountry after reading Sharon's book but it's up in the dozens at least. Everyone I discussed the book with seems to have enjoyed it tremendously, as I did myself, and many have commented that they were particularly entertained by her writing style. Sharon was not afraid to share her mistakes as well as her successes and that is one of the things that makes her book so informative, especially for the novice Grand Canyon hiker. Those who are new to hiking the Canyon can learn from her mistakes and hopefully save themselves some problems.
The foreword for her book was written by none other than Canyon-legend Harvey Butchart. In it he credits her with providing "detailed trail descriptions and enough of the daily experiences and hazards to smooth the way for the tenderfoot, while including much information that is unknown to many expert Grand Canyon hikers." Who could ask for higher praise than that?
-- Bob Ribokas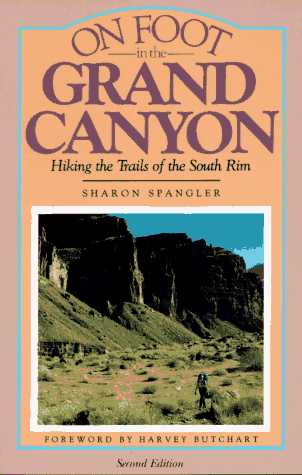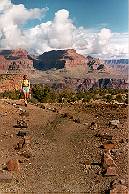 Sharon Spangler
Horseshoe Mesa
October, 1987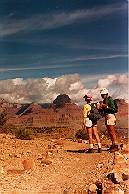 Sharon and Bob Spangler
Horseshoe Mesa
October, 1987