Trip Report, September/October, 1998
Grandview, Grapevine, Cremation, Bright Angel, Indian Gardens
By Daniel Thomas Dunn
pdunn@ili.net
Friday, September 26
After leaving Detroit,we made it to Las Vegas with plans to drive to Flagstaff for 1 night then down to Sedona for 1 night and do a 5 or 6 mile warm-up day hike.weather was gorgeous(85 and sunny both days,but cool at night)my wife Penny and i usually make it out to northern az.once or twice a year with the highlight being a multi.night hike in the GRAND CANYON.after leaving Sedona and stopping off at Babbits in Flagstaff for some last minute supplies,we headed onto the GRAND CANYON for 1 night in a Bright Angel cabin.After spending a little beverage time in the maswik lounge watching our Detroit Lions on monday night foot ball,and alittle more time in the b.angel lounge watching the Chicago cubs we figured we better get out of there if we planned to get an early start on our 4 night,5 day hike.
---
Tuesday, September 29
got up around 6:30 am,a quick coffee,we called a Harvey taxi for a ride out to Grandview trailhead,12 miles and 34 DOLLARS POORER we started our hike at 8:00am.we had been on grandview down to horeshoe mesa in Jan.of 1995 for a day hike,so as we headed down i forgot how steep this trail actually was,we made down to the mesa and Pete Berrys old mining camp in 2 hrs,had alittle snack(carried plenty of food this time since starving our way out on the north rim a couple years ago!)as we desended down the side of horseshoe mesa down to cottonwood creek i decidedto take a little tumble,cut up my hand and wrist but nothing a little peroxide couldnt fix.the descent down to cottonwood was again alittle more steeper than expected and with plenty of loose rocks to walk on but we eventually made it down to cottonwood and out on the tonto trail headed for grapevine canyon to spend the night,started to get rather warm by this time(90 degrees).since cottonwood was BONE DRY as far as water we looked forward to filling up at grapevine.now it was Pennys turn to tumble right into a cactus,after pulling needles out of her arm for a few minutes,we stopped for lunch on the trail overlooking the colorado river,it was a beautiful spot for lunch,headed back out on the trail for grapevine,as we reached grapvine canyon we knew we had approx.3 mi to the back of the canyon and a spot to camp,about 2mi back into the canyon we came across a tiny stream of water and filtered out a couple litres since we were getting alittle low,we finally made to the back of grapevine 10 miles a little tired,thirsty,and cut up but having a great time and eager to set up camp and relax.found a nice spot for the tent but was dissapointed in the water situation,with the backcountry ranger saying plenty of water at grapevine we found 3or 4 little pools of stagnant water but we made do and drank away!! after a dinner of chicken and rice and a gorgeous star filled sky we called it night knowing we had 12 mile to cremation canyon the next day.
---
Wednesday, September 30
woke at 6:30 am had a breakfast of oatmeal,coffee and filled every container of water we had since we probably would not see water until we reached b. angel campground.made it out of grapevine canyon(which i thought was beautiful!)and headed across the tonto,not a cloud in the sky so we figured it would be another HOT day at the same time trying to conserve water,came across a side canyon thinking it was boulder canyon and Penny telling me it wasnt(SHE WAS RIGHT)we headed onto boulder canyon then to lonetree canyon for a late lunch,had lunch at lonetree,pretty hot and THIRSTY by this time and Penny insisting that i tricked her by telling her that the tonto trail was flat as a sidewalk!! shes a trooper though!.once again both canyons were BONE DRY of water,after a SHADELESS hike we finally made it to cremation,figuring that we were low on water we would not cook with water and have canned tuna with cheese and crackers and summer sausage and little red wine that we brought along!as with the rest cremation creek was BONE DRY also,we relaxed,read a little,and decided to go to bed with another star filled night.
---
Thursday, October 1
woke up at 6:00am to get an early start for the 4.5miles to b.angel,a little worried since we only had 32 oz of water between the two of us,the first 1.5 miles out of cremation proved to be tougher than expected depleting most of our water right off the bat with 3 more mi. yet to go and already 85 degrees, you dont relize it right away but you really put away the water when hiking the GRAND CANYON.came across a large overhang and could not beleive what i saw under it,2 GALLONS OF WATER with a note attached: to my friends,took 3 hrs to get here,have a good trip to the river,signed maverick,talking to a ranger later he said maverick was a volunteer for the park service who occasionally caches water along the trail,couldnt have come at a better time!borrowed 2 litres and left the rest for the next thirsty soul and cruised the rest of the way down the s. kaibab to b. angel and phantom ranch.after seeing no one for 2 days we ran into the usual amount of people at b. angel campground,we were about the first ones at the camp and set up in a nice site right along the creek,i really enjoy the history of the ranch and this area,after a good lunch and a much needed dip in the creek we headed over to the canteen and guzzled a few cold coors.just relaxed and laid around the colorado river and reminised about our 8 day rafting trip we took in the canyon in 1995.made it back up to the ranch for the ranger program and then to the canteen for a nightcap and some good conversation with people from all over the place.went to bed with the stars again.
---
Friday, October 2
did the morning ritual,6:30 am oatmeal and coffee and set off for indian gardens,hike to indian gardens went quick as we passed everybody who left before us and seemed easier than before(probably because we didnt plan on going all the way up)got a good site at indian,a lot of hiker and mule traffic here,decided to day hike out to plateau point since after all the times we have been here we have never been there,went to the point eating mule dust but defintly was worth the views! had a dinner of spagetti and watching snakes and mice mess around our campsite ,had another gorgeous night and went to bed.
---
Saturday, October 3
got an early start again(just cant sleep in out here)the final 4.5 miles out the b. angel trail seemed to go well,plenty of day hiker traffic though,you would swear it was july or august considering the amount of people we ran into,finally saw the kolb studio and headed right for the lodges restaurant to enjoy A HUGE BREAKFAST!.checked in for a room at the EL TOVAR hotel,Penny and i had never stayed there before always opting for a cabin.had a wonderful day and night on the rim.
---
Sunday, October 4
checked out bright and early for the drive back to Las Vegas for 2 more nights.as we drove we talked about our hike and how much we enjoyed it,though next time we decided to go in the summer or spring to assure us of a few more WATER soures,Penny wants to do the n.rim-nankoweap or thunder river,i suggested another FLAT tonto hike via s.bass,who knows but i"ll have another good time planning it!

DAN & PENNY DUNN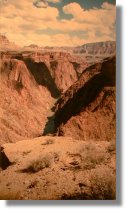 First view of the river from Cottonwood, on the Tonto