Monument Point - Sowats Point Grand Canyon Loop
May 2 - 9, 1998
Roger Jenkins, Barbara Allen, Sue Fischer, Andy Butler, Lance McCold, and Will Skelton
---
Day 1: Saturday, May 2nd
Today was just about as much fun as I can stand. I don't care if it is on trail or off trail, 4800 feet of descent on rocks is a long way to drop. I realize that the day that I summited Mt. Ranier, I descended more that 8000 ft, but virtually all of the elevation loss was on nice soft snow, and I was hurting that day too.

To begin at the beginning, we left Kanab, Utah about 6:30 am MDT (which became official trip time, even though Arizona is on MST. We did that to make Will feel as though he did not have to get up so early. He has this "thing" about getting up early. For someone like myself who is a morning person, and arises each day at 5:30 or so, it is no big deal.) Anyway, the trip to the trailhead was slow, because the Forest Service ranger had indicated that Road 422 was blocked with snow on the plateau, and that we would have to use the low elevation alternative, Road 423/427. Boy, was that a mess: heavily rutted and really twisty. We put the 4 wheel drive at the Sowats Point trailhead, and then headed for Monument Point. We had been told that the past Monday, the snow was so bad that someone had tried to drive out to the point thru the snow, and got stuck. Fortunately, we had high clearance vehicles (no accident: I had deliberately kept the big van and had rented a 4WD for the shuttle vehicle, just for this eventuality), and were able to get thru the offending snow patches out to the Bill Hall trailhead. We noted however, that every vehicle at the trailhead was a high clearance vehicle. Mostly trucks and 4WDs. We arrived at ca. 9:30 am MDT, and took the usual half hour to get our act together. I don't know why we all need that much time at the trailhead before we start a major hike, but 30 minutes is pretty much par for the course.

The famous Bill Hall Trail drops off Monument Point like a rock, descending several hundred feet quickly. I had known this was to be long, tough day, so was mentally prepared. I am not sure you can ever get physically prepared. The trail is easy to follow, and turns NW, just like the topo maps show. At the top of the 49 switchbacks, there is this thing that I was really concerned about: the 20 foot cliff. Folks had talked about it being difficult, and others had barely mentioned it. When I got to it (Andy, Lance and Sue were ahead of me, as usual), they were already down. It is not a cliff, just a short discontinuity in the trail. You can easily take off your pack: some of us did and some did not, and hand it down or slide it down. Definitely no need to carry a 50 foot, 2 lb. rope for the effort. We were past that by 11:30 or so, and continued down the switchbacks. The trail levels out after a half an hour or so, and by noon, I was munching some lunch under the shade of a cedar tree. Barbara and Will went on down to find some more shade, and Sue and Andy and Lanced did not stay long. I eventually caught up to the latter, and kinda walked along the Esplanade with them for a while. Of course, they quickly moved out front, and I was envious of their ability to move quickly. As I cut around the last drainage (4,030,500 N, 369,150 E), I noticed a small spring just to the right of the trail. Manna from heaven!! I figured it would not hurt to tank up. I had started with 3 L of water, and had drank as much as I could hold, but I drank a pint from the spring, and put another pint in my water bottle. I am glad I did.

I caught to S, A, & L, who were looking at some old ruins under a shady overhang soon after. They were eating lunch, but I felt like I wanted to keep moving, and did so. I knew I was getting to the point where I wanted to leave the Esplanade, and knew I had two very big drops left for the day. I did stop in the shade as I neared the top of the Redwall cut on the trail (now Thunder River), and munched some snacks and drank some GatorAde. It was about 2:10 pm

Interestingly, the trail thru the Redwall was not bad. At least not as bad as I thought it would be. It is rocky, but seemingly well maintained. Surprise Valley looked much greener than it had looked from the plane when we had flown into Las Vegas yesterday. It was covered with small bushes. I stopped and rested a bit, looking for the rest of the crew. One time, I saw A&S coming on down, so figured that now, they were about 30 minutes behind me. I had not expected to be out front at this point. I came to the split in the trail, where the Deer Creek access trail goes off to the right. I walked along, noticing that I would have to climb 100 or 200 feet or so to get out of Surprise Valley. As I crossed a small drainage (4,029,150 N; 367,600 E), I ran into some fellows, about our age or so, that were camped. They had tarps up to shield them from the sun. I talked briefly with them. They were doing the reverse of the route we had originally planned. They had gone down Indian Hollow. They said it was tough, and did not see how people could easily get up Indian Hollow. You can always rappel down, but sometimes you can't climb up. I congratulated myself at having changed our route, and moved the takeout spot to Sowats Point. I looked at my watch, and it was 3:40 pm: time to move on.

Next came to drop into the oven that the draw leading to Deer Valley becomes. By that time of the day, the sun has moved around, so you are still hiking into the sun. The trail was miserable. Big rocks which had been baking in the sun all day. Big steps: just the thing you want to do after this much descent. I had read that this part of the route was miserable. But somehow, what I had read did not convey the delight of this stretch. My feet felt like hot hamburger. I was glad that I had decided to go with the lightweight knee braces. I figured I would have been in even worse shape without them. I was surprised that A&S had not caught up yet. I figured that the Lance, Barbara, and Will group (who had an extra permit for one night in Surprise Valley) would not be seen by me until tomorrow, and that they were taking advantage of the short day for them by moving slow.

Boy, it hurt to make the big steps. Even though I had taken some more ibuprofen, my heels were really starting to hurt. As I got further down the valley, I could finally hear the roar of Deer spring, and see that many of the sites along the creek were taken (how can there be this many folks here with a permit system?) But the ones closest to me were in the shade. As I descended over the big rocks, there was a fellow hiking uphill. He said he had a fellow with his party who was really beat, cause he had not backpacked in a long time. We chatted for awhile, but my feet were screaming for relief. As I turned to go, he stopped and asked me who I was. I told him, and he said "I thought so! I'm George from Gatlinburg, and I went on a backpack with you and Will Skelton to Alabama once (the Sipsey Wilderness trip Memorial Day, 1989). You are the editor of the Tennes-Sierran." Amazing, such a small world!! He told me there was a small campsite across the creek from their party, and that we should use it. It was the closest site.

Finally, I arrived at 5:45 pm MDT. I was so hot. I still had a pint of water left, but I went to the creek and drank straight. It was cool, I already started to feel better. What a route in. 7.8 hours to go 9 miles. Whew. I went down the creek to take a bath, after setting up my tent in a semi-grassy spot. I looked up, and could see A&S winding slowly down the wall above Deer Creek. Sue was practically hobbling. I was afraid that she had turned an ankle, but she was just really really tired. She and Andy had been trying to get grant applications in before they left, and all that work had left little time for mental or physical preparation. They got to camp at 7:15 pm, amazingly 90 minutes behind me. Amazing, cause it is always the other way around.

A&S took a quick sponge bath, and get their tent set up before it got dark. I had Mtn House something. There was a lot of it, and it did not taste too bad. We reviewed the days adventures. Sue indicated that she had just needed to rest a lot, cause her feet were killing her. I guess an obvious piece of advice for any weekend backpackers like us is that it is essential that you get as early a start as possible, and be mentally prepared for a long day. And plan to eat lots of Ibuprofen.

It got dark before everyone could totally finish getting everything together, but it felt so good to be DOWN, and near water. Sleep came pretty easy.
---
Day 2: Sunday, May 3rd
A nice relaxing day. Got up about 6:30 am MDT, and headed down creek to the narrows around 8:45 or so. I had been thru the narrows of Deer Creek on the GC float trip I took in October, 1988, but I had forgotten how narrow they are. I took my time photographing the head of the narrows, but the lighting was not quite right that early in the day. The narrows are very narrow over the course of a few feet, and not for the squimish. Unlike anything on the Bailey Range traverse (which was two years ago), if you make one mis-step at the wrong point, you really are dead. At the point where the narrows skinny on down, the shelf on which you are walking is sheer. If you go off the side, you are looking at probably 100 feet or so to the bottom of the gorge. If you were to somehow survive the fall, you would then be carried downstream by the roaring creek (at least it was roaring now: vastly more water in it than when I was here in the Fall of '88.) That ride, going over several cascades on the way, would end with being swept over a 150' waterfall. Not a very pleasant process to think about. Still, hundreds of folks go thru the narrows each year, and as far as I know, there have been no deaths. But it definitely gets your attention. I noticed that my palms were clammy as I approached, but I was careful, and of course, had no problems.

The trail from the lip of the formation into which the narrows is cut to the river is good in some places, rocky in others and downright tough in one spot as you drop thru a cleft in some boulders into some vegetation. I got a little off route and into some vegetation. I had to make some big steps coming off a big boulder, and came a half-step away from stepping on a small rattlesnake that was curled up in the foot path. He slithered out of the way, due to all the "Holy Shit!!! cries from me. He/she was about 2.5 feet long, and sorta yellow in color, with nice diamonds on him. I did get down to the creek/falls outlet, and took a little dip in the frosty water of the creek. The Colorado looked like chocolate milk. A&S got down about a half hour later, and together we watched a big party of kyakers and rafters land at the mouth of the creek. They were on a private trip, and I discussed the permit article I had just written for the Tennes-Sierran, the one about the 18 year waiting time for private permits. The leader offered us - quietly - a beer to sip. He seemed to not want to let the other folks know that we were getting some of their beer. The beer was especially appreciated, since I had not brought any lunch down with me to the falls. I was trying to keep it cool, wrapped in my sleeping bag with my water sack.

Andy poked around for awhile, looking for just the right angle to photograph the falls. Sue and I stood out near the river, chatting and cooling our blistered feet, and waiting for the sun to get on the falls. After we took some "properly lit" photos, we headed back to camp thru the narrows again. We got back to camp about 2 pm. The rest of our crew was vegging out in the shade of the Gatlinburger's camp. They had arrived about 11:30 am, and were relaxing thru the heat of the day. Will, naturally, had his tent site picked out about 200 yds from the rest of us. He was looking for shade and privacy. He values the latter more than company, which is fine. He's involved when he needs to be. Anyway, Barbara had a particularly difficult time yesterday. She got to the junction of the Surprise Valley cross-trail and the Thunder River trail at the same time I got to Deer Creek, 5:45 pm. She rested while Will and Lance hiked to Thunder River to get water and view the falls. It was surprising to me that Barbara was so fagged out, but maybe this blood pressure medicine she takes saps her energy. Lordy, on last years Wind River's trip, she seemed out in front all the time, with me dragging up the rear.

I munched till 3 pm, and then relaxed some more, trying to rest my feet, took a bath, and cooked dinner. OK, I heated up the water and poured it in Mountain House Sweet and Sour Pork. It was OK, but filling. I knew tomorrow would be tough, so I did not stay up late. I was not the only one.
---
Day 3: Tuesday May 4th
Up and at 'em. Everyone was up before sunrise, and I was under pack by 8:04 am. By the time I got downstream to Will's camp, he was gone. When I got to the head of the narrows, I waited up for everyone. I figured that we might need a rope to help with lining the packs thru the narrows, because my memory had it that it would be too tight and exposed to do with a backpack on. When push came to shove, everyone did fine. I handed my tripod across, so I could use both hands to feel the shelf at head height. Barbara did great. It seemed to have bothered Sue the most, altho she did fine. It really is a situation of one mis-step and you are dead. You can not lean back with your backpack.

Today was our day to get to Fishtail Canyon. This was supposed to be the easy day. Right. First off, we made the mistake of starting out off the trail that goes down to the falls. We should have gone down to beach, and traversed along the beach. It took us about two hours to get down from camp to the "beach", so it was after 10 am (MDT) before we were starting to make progress going down river. We hopped boulders and walked beach (of which there was precious little) for about 90 minutes. I was acutely aware of the problems that the internet hikers had finding the route that goes up to the shelf and above the cliffs. But at the time we started looking for it, we saw a group of folks going the opposite direction from us. They were doing the reverse route of us, and they told us that the day from Fishtail to Kanab would be "a real bitch". But we could see the route they were using to come down off the bench. It was really easy to see where to go, up the draw, just like Steck says. We climbed up, about 250 feet above the river or so. It was a steep path, but not particularly difficult. We got to a little water pocket, and stopped for a bite. We were at 4,029,000 N, and 362,900 E at 12:30 pm. Beyond that, we came to Siesta Spring. It was nice.

We moved, spread out over about a half mile, to the mouth of Cranberry Canyon and found a shady overhang at river level just past it. The rest of the walk to Fishtail Canyon was pretty easy, but we did not arrive until 3:15 pm. That was over 7 hours to go maybe 4.5 miles. Not very fast. I am convinced that the times you read in book include no resting or eating time. I walked up Fishtail a few hundred yards or so, looking for water, but there was none flowing in the creek bed. There was not much shade either. But there was a little in a flat area about 100 feet from the river's edge, on the flood path of the river. It felt like we were on the beach, because the roar of Fishtail rapids was a surrogate for ocean waves. And Fishtail is a major rapids, with a huge standing wave right in the center of the end of it. Powerful.

Sue and I poked around, looking for clear water. We found some which had settled out right near the river water's edge. I found some more in a pocket on a boulder. I also found a can of German beer wedged under a boulder at the water's edge. With dinner MH spaghetti, I gave everyone a sip who wanted it, and drunk the rest with my meal. That's beer, two days in a row. On a backpacking trip. Barbara and Will got in later than the rest, just moving slowing and deliberately. Better that than twist an ankle. Dinner was not very together. Maybe everyone needed to do their own thing. It was kinda neat with the rapids to lull us to sleep, but I think I would have slept anywhere. One note: we have been lucky with the temperatures: When we got to Fishtail, it was 84 degrees in the shade: 10 degrees cooler than expected. That makes a big difference. I don't know how you could do it with highs at 105 or so. The difficulty is that even though you are walking along the river, you really can not drink the water, at least not without some serious settling and purification. And altho the air is cooler right at river level, it is much warmer just a few hundred feet back.
---
Day 4: Tuesday, May 5th (Cinqo de Maio)
Just another day in paradise. If you call miles and miles of boulders paradise. I left camp at 7:50 am, nice and early, but 45 min behind, A,S,L, & B. There is nothing particularly challenging about the trip to the mouth of Kanab Creek. It just takes constant "figurrin'." It is tough to go more than 20 yds without having to solve the problem of how to go thru or up and over the boulders. Nothing during the day presented a real problem, it just takes a lot of time. I had made a mile by 9:03 am, and was at the 1898T point on the quad by 11:03 am (of course, this includes brief rest stops). I had caught up to Barbara by then, and we walked/scrambled for a while together. We saw four guys walking together, going upstream. They waived, but they were higher up, and walking on a path! So Barbara and I scrambled up to the path. It was easy to follow, and had far fewer boulders. Note that the path is about 200 feet up slope from a point 100 m downstream of the 1898T point. (Ah,....GPS's). We could follow the path for a bit, but it finally came back down to the water. With all the frogging around, we still had not made much progress: at 12:38, we had only reached the river and about 356,300 E (UTM coordinates). Again, rest and lunch.

After lunch, I felt like I had to start moving a little faster, but Barbara needed to adjust her pack some more, so I went off and moved ahead. I recall that there was one major rock slide that took a long while to move through, because the boulders were huge and non-stop. As I continued along the water's edge to the extent possible, I came to a point where the cliffs block further progress, and you have to go up. At that same point (it was about 2:15 pm now, 6 hrs into this fun-filled day), I encountered a guided international group who had left the mouth of Kanab Creek just a short time ago, headed for Fishtail Canyon. They were moving very quickly, but I told them that it had taken me 6 hours to get to that point. Such did not seem to bother them, maybe because they seemed to be so skilled at rock travel. Anyway, they told me that from this point on, the going would be easy, that there was a strong path and not too many boulders. I assured them that what I had just come through was not that way. So I climbed up on to the path, maybe only 50 or 75 feet above the water level, and felt like I was on a virtual highway. It still took me an hour to get to the mouth of Kanab, but it was an easy hour. I did stop so I could set up a duck in the middle of the trail to warn Barbara and Will of the rattlesnake coiled up in the middle of the path, but by the time I had the duck established, the snake had slithered off. Sorry to have disturbed him, but I am part of the landscape too.

I made it to the mouth of Kanab by 3:30 pm. More than 7.5 hours to go less than 5 miles. A,S,&L were there by 1:30 pm, having cut 75 min off my travel time. So it can be done much faster, but not by me. We had been very lucky with the weather: It had rained for about 20 min (hailed for about 5) at 11:40 am, and had been cloudy and semi-cool for much of the day. Andy had measured the temperature when he arrived and it had been 66?. I measured the temp right before dinner and it was 71?. Unbelievable for the bottom of the Grand Canyon in the early part of May. It must have been freezing on the top of the North Rim. There is no water that I could find between Fishtail and Kanab. I had carried 3 qts of water, and had drunk all but a pint. What would it have been like at 95??

The sun was out now, and it afforded me the opportunity to bathe in the creek in the sunshine: terrific. There has been a major rock slide that has partially dammed the mouth of Kanab Creek. It is sort of a lake there. Better camping is on the western side of the mouth, but everyone seemed to want to stay on the east side, so that is where we camped. After our baths, we saw another one of these yellow rattlesnakes, coiled up in a bush at about head level on the wall that comprises part of the path through the trees to the creek mouth. The snake did not want to move, and we could not have him there, from a safety standpoint. We tossed a couple of stones his way, and he started to move, but unfortunately in the direction of A&S's tent. So we tossed a few more stones, and he got really mad, but he slithered off, not to be seen again.

Lance found some beers and he brought one back to camp, for everyone to have a sip. But it could not help my Richmoor Burgundy Beef dinner. It used to be a great dinner, now it is awful. Got to put that on the bottom of the list.
---
Day 5: Wednesday, May 6th
It rained, or rather showered briefly for three periods during the night: a couple around 1 am and another around 5:30 am. Enough to keep everyone in bed a little longer. I got up earlier than most. My 12-year old Clip Flashlight, that had been used the last time last year by my step-daughter Erin on a trip to the Pecos Wilderness had leaked, just like she said it would. Nothing serious, but I would not want to be out in a real rainstorm with it. Time to replace an old friend. It has been with me through a lot.

I got up around 7 am, tried to dry out some of my wet stuff that I had left outside overnight. I packed up and was out of camp by 9:12 am. I figured that this would be a long day, and I wanted to be on my way. I was really looking forward to the next two days: Lower Kanab was the real justification for this trip. I have been wanting to be here ever since I had read about Kelsey's description of Shower Bath Spring. Lower Kanab is great: just what I like in a canyon. High walls, flowing water, and lots of flowers. The inner canyon walls go up in some places more than 1200 feet in the lower part of the canyon. The bottom is 100 - 200 feet wide in places. And boy, the rocks are slippery. I have not been on such slippery stuff since I was at Big Pool in Raven Fork in the Smokies. First, the rocks under the water are covered with a fine layer of silt, which is in turn covered by algae. Slick as it gets. My water shoes, the One Sports that I got for the trip, did as well as can be expected, but going was slow, due to the slippery terrain. Very easy to slip and break a leg. The first spring I came to on the left side of the canyon was "contaminated" by run off from the rain. It was kinda cool to stand under this shower of water which was coming off the rim a 1000 feet above me. There were a few chokestones in the first 4 hours of hiking that required a little negotiation. Once I went in the water nearly up to my crotch. It was not easy, but it was my kind of canyon. I got to the mouth of Slide Canyon at 12:50 pm, and stopped for lunch. I did not go up to see the Slide of Surussus, mainly because I wanted to conserve my energy. I looked at the topo map, and knew I was only about half-way to Scotty's Hollow, our camp for tonight. A, S, & L caught up and passed me while I was there. I left the mouth of Slide canyon about 1:45 pm. I figured I had another 4 hours to go, and I was right.

Above Slide Canyon, it was more of the same. I caught up with the front group, and we stayed together for the rest of the day. As is marked on Kelsey's map, there are two sections of "Chokestone Alley." These are places where the canyon walls have collapsed in sections, and the creek bed is choked with room-sized boulders. The boulders disrupt the gentle flow of water downstream, forming big pools that are too deep to wade. So you either swim, or find a route through the chokestones. With four of us together, it was tiring but not pushing our abilities. There was more than one person to scout the best route, and you could always get help with your pack, lifting it up to the next level. Make no mistake about it. The floor of the canyon at Scotty's Hollow is several hundred feet higher (like 800 to 900 feet) than it was at it's mouth. There is no way to get that increase but to climb. Many times, you would crawl/climb up to the top of a boulder, thinking you were going to have to come down again, but you were just at the ground level at the top of your climb. About a quarter mile below the Hollow, the canyon eases a bit, and it is smooth sailing to a very disappointing campsite. It is tucked into the side of the canyon wall, on a little knoll, maybe 40 feet above the stream bed. There is clear water coming out of the Hollow, and nice places to bathe, but the site itself has room for five tents, as long as there are no occupants. But it would do for the night. If I were wanting to explore the Hollow, I would camp a mile or so upstream, and hike to here.

The four of us got to camp at 5:50 pm. Barbara and Will were 90 minutes behind us. She had been by herself most of the day, and she had a couple of things working against her. First, when there is just one of you, you have to do all your own route finding. That takes time. And because she has not been doing canyon hiking as long, she can't rely on as much experience. Secondly, remember that her left arm received that double guillotine break on the '96 Dolly Sods backpack, and she does not have the strength in her left arm that she might otherwise have. And on this trip, you really need all your arm strength. Because our compatriots were late getting into camp, we all stayed up a little later, seranaded by frogs. Dinner was Alpine-Air Chicken Primivera. It sucked. No flavor: just FD chicken in tomato soup with pasta and peas and corn.
---
Day 6: Thursday, May 7th
What a delightful day. Easy, more or less, hiking, and got to our campsite at a decent hour. Our campsite is a beautiful grassy bench, immediately west of and across from the mouth of JumpUp canyon. This is probably the finest campsite I have ever had in cayon country. The grass is ungrazed, and because the canyon wall is directly to the south, parts of the site are shaded even in late afternoon. Andy measured the temperature to be 64? in the shade. We have been very lucky weather-wise. There are pockets of water in the streambed, and few signs of cows. The narrow slot of JumpUp yawns across from us, beckoning exploration. That will come tomorrow.

I left our modest site at the mouth of Scotty's Hollow at 9:12 am (yes, two days in a row), and headed upstream. Barbara was a couple hundred meters ahead of me, and I quickly caught up to her. We hiked together for most of the morning. The first obstacle we came to was up on a bench, less that a km upstream. We had taken the bench route, thinking it would be easier. I don't know if it was, but there were big boulders in the creek. We topped out on a bench, and came to a rock slide with boulders requiring that we take off our packs, hoist them up after scrambling up by jamming the slot crossways (feet on one rock, butt on the other). It was slow, but it worked. Before long, we came to famous Shower Bath Spring, named by John Wesley Powell on his second exploration trip of the Colorado, when he exited the Grand Canyon via Kanab Creek, fearing death at the hands of warring Indians if he continued on down the river. Shower Bath Spring is one of the more interesting springs I have ever seen. There is a lot of water running out of a seam in the rock, which overhangs the creek bed. All kinds of red Monkey Flowers grow all over the outcropping, and divert the water into hundreds of little paths, making the spring more like a shower. A hummingbird feasted on the nectar in the flowers. There is also a small but nice campsite right across from the spring. How come the trail guides never mention these? It was vastly better than the one at the mouth of the Hollow.

But first, we had to get through the pool to cross the stream bed. Barbara and I looked at the water depth, and decided the best move would be to wade on a ridge of sand to the left of the stream bed. The water was up above my crotch, and things got a little cool, but not too bad. We spent some time photographing the spring. The next incredible thing we saw, on a bench on the right side of the canyon, was the longest nice grassy bench I have ever seen in canyon country. It went 1/8 of a mile, and could have held 200 people. The grass was about 8 inches long, and green and lush. After some more walking, we came to another nice spring, Pencil Spring. A fine little jet of water flowing out a crack in the rock. I did not see the stream, but Barbara reported such.

About 20 minutes of hiking above Pencil Spring, the water stopped flowing in the streambed. The stoppage is very abrupt. Within about 100 meters, it goes from a good flow to nothing. Barbara filled her punctured water bag, and I put about a quart in mine and loaded both bottles from the last pool, afraid that we might have a semi-dry camp at the mouth of JumpUp. I seemed to have lost all my go-juice after lunch, and that I was moving in half-time steps. It was not the heat, for the canyon walls are still steep, and shaded me perhaps 50% of the time. The air was not as hot as it had been in the bottom near the Colorado River, and the canyon was lovely. My energy perked up, though, when I saw my first puddle on the canyon floor, a short half mile or above the point where it had stopped. It did not seem as though the water was moving in it, but it was clear after seeing 3 or 4 of these that there should not be a major problem with water for camp. The water was just moving down the creek bed under the surface. Of course, it was also clear that just a few days ago, there had been a lot more water flowing down this creek. (You could tell from the partially dried mud holes and the fact that the folks that I had run into in Surprise Valley had said that there was running water the length of lower Kanab Creek.)

I rounded a bend, and saw Sue walking on a grassy bench in the shade right across from the mouth of JumpUp Canyon, and I knew I was home. There was a good water pool about 150 meters downstream of the campsite, and a good bathing pond about 100 m downstream of that. So we were in good shape. It was a luxurious 2:50 pm MDT when I pulled into camp. We all lounged around in the shade. I set my tent up as close to the wall as practical, so it could stay shady as long as possible. Others just hung out. It was wonderful just to do nothing.

We wiled away the afternoon, had dinner at various times, and built a trash fire (outside the park boundary) to lighten our load even more. This was more like the typically canyon trip day, but everyone seemed so worn out from past days that no one took off exploring very far.
---
Day 7: Friday, May 8th
Now this was a really luxurious day. Just a few hours of hiking, our original goal being the mouth of Kwagunt Hollow. I, unfortunately, was suffering from a touch of loose bowels. Like 3 trips to the john before leaving camp at 10 am. Thus, I was the last one out of camp. I quickly caught up to Will, and he and I hiked together a while. The bottom of JumpUp is easy going, but there are a lot of cobbles in the creek bed. You still have to watch where you step. JumpUp has great narrows, in some places it gets down to maybe 18 feet or so. The immediate walls don't go up very high, just a few hundred feet, but it is enough to make you realize that in a flash flood, there is nowhere to go. There are very few safe points. Even the canyons that come into JumpUp (with the exception of Indian Hollow) come in via a huge pour-off, usually 30 - 50 feet. No way you could scramble into them for a safe haven. But the narrowness is gorgeous, and worth seeing. There was a huge overhang that Will and I saw, where the creek undercuts the wall. It was impossible to capture with a 28 mm lens. 24 mm would be a minimum.

A little before noon, I got to the mouth of Indian Hollow. According to Steck's book, it is only 15 minutes of hiking to the first "obstacle pool." Sure enough, there it was. There was no question about the correctness of our decision to go out Kwagunt Hollow. The first pool definitely requires a swim by one person, who also needs to climb up (presumably) behind a large boulder (we are assuming now, 'cause we could not see the actual route). This person swims with the rope, and then gets to walk the ledge back to the point where packs can be hoisted up 25 or 30 feet. The rest of the folks just have to swim and climb. I am sure we could have handled this pool and chokestone, but who knows about the others. I got to thinking that maybe in future years, a required piece of hiking gear for each of us would be 2 sticks of dynamite and 50 feet of primer cord. Just to clear out some of these obstacles.

I left the mouth of Indian Hollow, and in about 15 minutes, started encountering small pools of water in the creek bed. Sure enough, by the time I got to Kuagunt Hollow, there was good running water in the canyon floor. Interestingly, the narrows abruptly end about 200 yds downstream of the mouth of Kwagunt Hollow. The canyon opens up considerably, and there are broad benches covered with cacti (beautiful blooms) and good running water. Amazing how quickly it (the water) stops and starts. Andy, Sue and Lance had left a note, indicating they were up Kwagunt Hollow, searching for a possible campsite. Barbara and I mosied around the confluence, looking for better places to set up tents. About 2:45 pm, the crew returned, and Sue was adamant that we start up Kwagunt right away, saying it was going to be slow and rough going. But they had found a pretty good campsite, albeit small, with nice water. More confirmation that Kelsey knows what he is talking about when he delineates flowing water. We (with the usual exception of Will) took off at 3pm like bats outta hell, trying to keep up with Sue. To bypass the first pour-off, one has to climb high to the right, and there is a tad of exposure. OK, for one step, there is a lot of exposure, if you take the low route. (There is an alternative route that goes even higher, but you have to come down even further to get to the campsite.) But we all did it, and in 39 minutes, we were at the site that Sue was afraid would have taken us 90 minutes to get to. (However, it should be noted it is always faster if you have just scouted the route. It would be more like 60 to 70 minutes for unscouted routefinding.)

The campsite itself was kinda neat, a small flat wedged between two 50 foot pour offs, with nice water, and lots of frogs to keep us serenaded. It was nice to get to camp at a decent hour. We all just relaxed, bathed, etc. Will showed up (high above the camp on the bypass trail), and announced that it was too early to quit hiking, and besides, he hated to get up early. So he decided to hike to where the water gave out, and afford himself the opportunity to sleep in on what would be our last morning. His do-it-his-way approach bothers Barbara sometimes, but I tried to explain to her that from Will's standpoint, he is being a team player, because he his willing to give up the company of the group for the evening, so he does not hold us up in the morning. Sorta convoluted logic, but it was the best I could do. Anyway, we all made preparations for an early morning departure, not having a good sense of how long would be required to get out. Andy and Sue had been given the car keys, being the fastest hikers over the type of territory we expected to cover. Their plan was to be on the trail by first light, somewhere around 6 am. The roar of the frogs was pretty intense, but it was not hard for me to sleep. Just wish I did not have to get up so early.
---
Day 8: Saturday, May 9th
Hoisted the pack around 7:10 am, A&S, and Barbara had left long ago, at 6:30. I wish I knew how they can break camp so quickly. I have plenty of experience, having taken over 210 backpacking trips, but maybe it is just me in the mornings. I am never quick. Going up thru Kwagunt is lovely. Lots of sheets of rock: your feet hardly ever touch dirt. But there are lots of pour offs which require negotiation. So many I lost count, but at least a dozen. Lance quickly caught up to me, and both of us to Barbara. Most places, we could handle without taking off our packs, but there were a few that required removal and hoisting to the next level. Not a problem, but it does slow progress. Our goal was to get to the split in the canyon, and take the left fork, because that fork intersects the trail with less hiking in the canyon bottom. There was no problem with this approach. It just took a while to get out. After you get out of the narrow part of the canyon, you still have to get through the slickrock terraces. By this time, we could see Will, a few hundred meters ahead. A couple of shelves of sandstone, and a short stroll, and we hit the trail. Wonderful, beautiful trail. It was nice to get to a spot where the adventure was mostly over. We strolled along for a bit, soon getting to the clump of big cottonwoods that the Park Service describes as the place where, if you are coming from Sowats Point, you leave the trail and head down the drainage. Such will take one down the southern fork of Kwagunt, whereas we had come out the northern fork. The former keeps you in deeper canyon a little longer, the latter keeps you on trail a little longer.

I left the cottonwoods about 9:40 am, a few minutes ahead of Barbara and Lance. But Barbara, once she got to the trail, and pulled out her other walking stick, now one in each hand, and had become a hiking machine. Lordy, she really pushed hard up the trail. The trail is interesting, in that it utilizes an old gravel slope and a break in the wall, to get to the level above the white cliffs. From there, it was an easy traverse, and a final climb of about 500 feet to get to the very top. I arrived at ca. 11:45 am MDT. Andy and Sue had arrived 20 minutes earlier with the vehicles, and Will was busy snapping photos of the hikers arriving. It was a good trip, but we seemed to all be thankful that it was over, and that we had survived with no major accidents or broken bones.
---
Final thoughts:
If you are going to go all the way down in one day, plan for a layover at Deer Creek. It is a nice spot, and your body will need a day off. The alternative is to hike into Surprise Valley, walk over to Thunder River for water, and make it a short day to Deer Creek.

The water along the stretch from the mouth of Deer Creek to Kanab Creek is minimal at best. There is the one spring upstream of Fishtail, but don't count on a lot of good water at Fishtail. We were lucky to find the clearer pools that we did. The silt in the river water does not settle very fast, so if one is making the trip in early summer, where run-off has ceased, you might want to take a collapsible bucket for letting the silt settle.

If you want to push, one can make it from Scotty's Hollow to the mouth of Kwagunt Hollow in a full day, but that forces one to rush thru the narrows of JumpUp, which would be a mistake. They need to be savored.

The trip itself is not in the top half of my canyon trips (something like 18 or so). The Grand Canyon itself tends to be bigger than what I like, but that is ok. It was a good trip, and while I won't repeat it (like I have done with Fish & Owl, Lower Escalante, and the Bailey Range, and would do for a few other places), knowing what I know now, I am still glad we did it.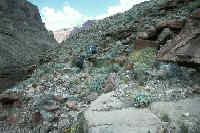 On the bypass trail day 1 along river