May 7-24, 2005
Trip to Grand Canyon interior and Havasu Falls
Al Kruzins

---
A month earlier, we decided to visit the Canyon and hike. Reserved a flight to Phoenix for Al (53 yr) and his son Zack(21 yr). Tried with NPS for backcountry permits but they were all booked for May. Spoke to a ranger on the help line in the pm and received advice that spaces were usually available if you could wait a day or two. Discovered that Bright Angel Campground has 33 sites and Cottonwood about 11. Not sure about Indian Garden. We originally wanted to hike Rim to Rim, but the N rim was still closed due to snow level. Booked some meals through Xanterra for Phantom Ranch meals. Phantom was also booked but we learned about last minute cancellations available at the Bright Angel Lodge transportation desk. The trip was fantastic, scenery incredible, body fatigued and great weather. Here is our story:
Day 1
Arrive in Phoenix, 90 deg, rental to the South Rim, stop in Williams, interesting town, shopped at a great Safeway and had cheap gas. Reserved at Mather campground, while waiting for an interior permit. Put our name on the Phantom Ranch at the Bright Angel Lodge, Transportation desk (do so before 8 pm each day) About 45 degrees at the S rim and 30 at night. About 4 hours drive from Phoenix. 75 mph on I17. Interesting drive north, through desert, thru scrub to northern forest.
Checked out the sunset at Mather Point.
Day 2
Mather Campground Up at 5:30am to get to BA Lodge before 6:30 am. With the 3 hour time change, it was not difficult to awaken. Scraped ice off the car windshield with a credit card!
Roll call at the BA Lodge, many no shows, we did not get called, but learned we were first on the list for Day 3.Also learned from the desk, that it was very likely that we could get a cabin or dorm for Day 3. Drove over to the Backcountry office, across from Maswik Lodge to get in line, We were first. Someone had left an interior permit for that night in the door, we could have used it and held on. People started to arrive and by 8 there were about 15.(So get there early) Some had wait list numbers from the day before. Doors opened, and some numbers were no shows. Go to the clipboard right away and get a number and fill out the form. We were called and received 2 nights at Bright Angel for Day 4 and 5. Cottonwood was not available on Day 5. Indian Garden was avalable on Day 4. We could have gone down with the free permit, but gave it back to the ranger. We were not 100% prepared and tired from the long flight from Ontario, Can via Buffalo, NY. A wise move, we got more groceries from the Park store, napped in the pm, Cooked a high carb pasta meal with lots of veggies at Mather, got packed up and early to bed. Cold again, 28 deg.
Day 3
Hiking down S. Kaibab. With packs all ready,we headed for BA Lodge for the 6:30 am roll call. Parked at BA lodge, close to our BA trailhead exit. We were first as predicted and could have booked a cabin for 2 nights, but opted for our camping permit and confirmed the Beef Stew Dinner for 6:30 pm. Steak is 5 pm every day. Breakfasts are at 5:00 am and 6:30 am. Sack lunches are picked up at 6:30 each day. Took the camper's shuttle from BA Lodge. It leaves at 5, 6 and 7 am in May. Times vary with the season. Then stops at the Back office then to Yaki Point for the S. Kaibab trailhead. Bus was packed. One last toilet stop at the rim then into the canyon we went. It was about 45 deg but we knew it was going to warm up, so shorts were the order. Al had some nordic hiking poles (a great acquisition). We also found Platypus water reservoirs, and extra water bottles to be helpful as well. Left at 7:30 am down S. Kaibab trail. A very scenic trail, headed out for cedar ridge and skeleton point. This trail was beautiful as predicted and very scenic. Average grade the rangers tell us is 14%. Zack was further ahead and had to wait for his slower Dad. Had some mule trains pass us, packing trail repair rocks and materials. Also a few rookie mules had their first ride down. Watch out for these guys. The trail is often not level. There are either rocks, blocks or tree trunks every 3-4 feet. This we hear helps the mules get a grip and keeps the trail from eroding. However, it is very difficult on your legs, in particular your calfs, lots of up/down motion. Stopped for a few drinks and then llunch at the Tonto trail intersection. Saw a few crews repairing the trail, a continual job they telll us. Our calves were really hurting now, but when you get that first glimpse of the Colorado R, you're motivated. It got very warm, up to 90 at the BA campground. We arrived about 2 pm. We saw a few river raft parties arrive at the beach at BA creek. Also saw some mule parties come up the S. Kaibab trail and a few brave hikers ascend in the heat of the day (very foolish we thought). We wanted to cool off in BA creek but the level was extremely high due to the high snow melt, perfect for whitewater kayaking, but not swimming., Zack jumped in to the 48 deg Colorado R (yearround temp) for a few seconds, but Dad declined! A beautiful beach, but the drop off is quick and the current very strong. Swimming is discouraged. Got a good site at BA campground. Each site has steel ammo boxes to store your food and garbage from those voracious squirrels and geckos. We didn't see or hear anything bigger. Washroons and cold running water. A few biting house flies were there, but not a real problem. Heard a Ranger program at Phantom Ranch, a real sparkplug presenter gave us Grand Canyon Jeopardy with various categories to answer for sticker or book mark prizes.
Beef Stew dinner ($21 each) at 6:30 was fantastic, unlimited stew, salad, corn bread and choc cake. (water and ice tea) You could purchase wine or beer (BUD or Agave). Heard another ranger talk on the Colorado R.
Learned a neat fact. Over 5 million visitors at the GC each year. Average length of stay is 4 hours with only 15 minutes viewing. Only 1 % enter the canyon, either by hike, mule or raft connection.
Mule trips leave BA trailhead either for overnights at Phantom and returns up S. Kaibab or down BA trail, stopping at Indian Garden, with lunch at Plateau Point and returns up BA trail. So mule droppings are everywhere on the trail, but they decompose quickly. Early to bed 9 pm.
Day 4
Hiking up N. Kaibab Trail to Ribbon Falls
Up for the 5 am breakfast (A little pricey at $17, only about 15 present, about 1/3 full. Great meal of scrambled eggs, pancakes, extra crispy bacon, OJ, and coffee. Picked up our sack lunches. Some people have been disappointed with the lunch, but we thought it was pretty good but maybe a little pricey at $9.50. Got a bagel with cream cheese, fat salami stick, cookies, raisins, apple, granola bar, Gookinaid mix and peanuts. We left for Ribbon Falls up the N Kaibab trail. Good thing it was uphill as our calves were in pain. We saw many others shuffling around. Where are those massage therapists!
The trail followed BA creek in high flow up the BA Canyon, We crossed the river several times on bridges. A relatively new trail has been made with the Roaring Springs water line inserted under the trail. Roaring Springs supplies the N and S rim year round. THe pipeline travels to Indian Garden on the BA trail and then is pumped to the S rim from there. THe trail was very enjoyable. Overall there was a lot of growth around the area due to the high water levels. Saw many cacti blooming and the tall century cactus also in bloom. There was so much water that we had some swampy areas along BA creek (swamp inside the canyon, yes !) A gradual hike upwards with a 2000 foot elevation gain after 7 miles to ribbon falls. We could not cross BA creek due to high water flow, so had to north up a hill and cross the bridge back to the west or left to Ribbon Falls. While Zack was about to water a rock, he saw a brown coiled rattlesnake ! The snake quietly moved under a rock, but we had some entertainment, keeping a distance. Had lunch by the falls. A beautiful scene, ribbons of water falling on calcified rock, with some green growth around. It reminded me of the Fern Grotto on Kauai, Hawaii. You could climb above the falls and get a great view. Be careful of the slippery rocks and muddy areas. Well worth the trip. Weather was cloudy and about 70 that day, very breezy at BA campground both nights. Returned on a gradual downhill, oh those calves. As we shuffled into the Phantom Ranch, enjoyed a cold beer from the canteen, other items, sunscreen, snacks and lemonade are also available there every pm till 4 then after 8-10 pm. Then we shuffled off, returning for the 5 pm steak dinner. We arrived late and had the last 2 steaks, Zack had a good cut, but mine was heavily marbled. Dinner was pricey at $31. Potatoes, corn, bean salad, corn bread and choc cake with water and iced tea. Overall food was good there and we didn't have to carry it down. We saw many hikers there, but most were ranch guests. Could you believe the ranch guests even have hot showers available. There were quite a few river parties, either just arrived by mule or hiked in, they left the next day for their trip or about to start off their trip. To bed early, ready for the hike out.
Day 5
Hiking up BA Trail.
Up at 4 am, in the dark, protein bars then leave at 5:15 am crossing the silver bridge at sunrise. A shaky bridge, with steel grating, not for those afraid of heights. Pleasant river walk, lot of downhill sections, then started up Pipe Creek creek canyon heading for Indian Garden. All in full shade until the top of the Corkscrew, arrived at the Garden at 9:30. Rested, filled up with water, had some bagels with PB and J and off we went. Then Al started to feel the uphill pain, lack of oxygen and frequent stops. The pack seemed just too heavy! Hike across the open until the multiple switch backs. Some shade started to appear. Temps were pleasant at around 70. Where is 3 mile house, and then 1.5 mile house, then the 2 tunnels. Finally we made it, due to Al's slow progress at 4:45. 11.5 hours up the hill, about 3 hours too long. But had to be safe, hard to catch a breath with the chest pounding. After rest then OK again, over and over again.
Learned that you could hire a pack mule to bring your pack down or up for $75. Maybe next time?
To the GC store for more food for the next few days. Pasta and soup dinner then showers at Mather campground and early to bed before 9. Best nights sleep of the trip, thanks to BA trail.
Learned why it was so quiet in the Canyon. The airspace is a no fly zone, so no helis or planes, except the far east and west areas of the canyon, and summer rescues of course.
Day 6
Drive to Havasupai Indian Reservation and Havasu Falls.
Slept in to 6 am, then oatmeal, pack up then off for the Indian Reservation. South to I 40, East to Seligman, then old route 66 to mile marker 110, then 60 miles to The Hilltop. About 3.5 hours later arrived at the Hilltop, looking towards Havasu Canyon. A parking lot with 200 cars appeared, with cliff views. Watch which gear you engage your tranny! Heard helicopters flying. What is this! Apparently you could take a $85 one way trip for 5 minutes or 5 hours hike for 8 miles (what a decision!) we hiked in, You could also ride a horse down for $65. Your gear would be delivered for $20. Is this camping? We think not, so hiking we go. Many horse trains with mail and all goods. The natives at Supai, 600 strong, rely on the heli and horse deliveries. Many run the horses on the trails. Some switchbacks on the top portion then a pleasant walk along a dry river bed to Havasu creek. We even saw a horse train led without guides, some very intelligent horses ! We left at about 12:45 arriving just after 5 at Supai. The office is open from 7am to 5 pm for check-in. $20 per person then $10 per person per night to camp. Walked through Supai., Felt we had stepped back 100 years, except for the satellite dishes and helis. Very dusty roads. First glimpse of Havasu Creek is impressive, clear blue-green water. Village is small, with post office, office, store, cafe, school, medic and lodge amongst houses. Domestic dogs everywhere with no apparent home. A 1.5 mile hike further to Havasu Falls. A few smaller waterfalls before (Navajo falls, I believe) Temps were about 90 at Supai. First glimpse of Havasu is very impressive, then .5 mile further to the campground. Campsites on both sides of a fast flowing Havasu creek, The bridge washed out so some logs are used to cross or wade across at waist height. The campground holds around 250 people and it was about 80% full. Booked most weekends, You need to reserve ahead, and the rest of the summer. The lodge was booked until Nov/05. The campground was very disorganized. No numbered sites, just grab what you can. Each site has a picnic table, but some large groups had multiple tables and had spread themselves over a large area.
An interesting note, at Havasu and BA campground, many slept without a tent. Rain is not prevalent.
Crossed the creek and had a nice site. Set up and did a dehydrated meal, bag slipped off and we had 50% of the meal. Lots of nuts and granola bars. To bed early by 9 again. The majority of the campers either helied in or horsed it or had their packs transported down. Unfortunately it seemed like a regular car camping site without the cars.
Day 7
Havasu Falls and hike out
Up at 6, oatmeal, then veg out, hike .5 mile further to Mooney Falls, About 200 feet drop., Some premium campsites at the foot of Mooney falls. Al walked 1/2 way down and Zack all the way. Some caves, chains and wood ladders with slippery toeholds led him to the base of Mooney, some swimming pools were established. Packed up and after stocking up on chlorinated drinking water and visiting the plastic toilet boxes, we vegged out at Havasu Falls, just perfect, water about 65 deg. Many day visitors from the lodge hiked down. Left at 12:30 headed for Supai., Stopped at the cafe for a gigantic Supai Taco (either on fried bread or nacho). Rested for a few hours, many heli's in/out, then headed back up the canyon to the Hilltop. All in the afternoon shade. Saw some wild horses grazing on both trips. As usual Al tired quickly and we arrived around 8:45 pm, in the dark with some moonlight. The legs now were strong!
Drove to Williams, about 2 hours away, tried for a campsite or hotel but all were full, so we pitched the tent beside the Super 8 in a field.
Day 8
Williams to Phoenix and home Up at 5 am, gas, protein shake, OK and muffin then I 40 East, took 89A south to Sedona.
Zack drove us thru scenic Oak Creek Canyon (some great campsites visible).
Into Sedona, with the red buttes and rocks. Lots of art galleries, shops, condos and cottages. Then to !-17 and Phoenic.
Lessons Learned
stairclimber training is not enough. You need 3 months at similar altitudes if possible, or at least carrying a 30 lb pack up down locals hills
plan further ahead than 1 month. Interior sites can be booked 4 months ahead-
try out your pack well ahead and practice hiking. Did not anticipate chest strap problems and awkward positions of pack.
carefully pack and decide what to take. We overpacked. Do you need a whole roll of ducttape?
plan ahead, did I already say that!
use hiking poles
if you haven't slept in a tent, do so before you go. I had camped for 40 years, but not in the last 4 years.
do you need a tent? Tarp and bag/pad
dehydrated food is a must, lightweight stove
camelback or platypus water equipment is essential
good boots and insoles. Just used new orthotics. Realized that improved toe and ball padding was needed
follow all the hints given on this web site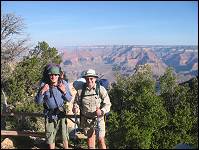 Al and Zack at S. Kaibab Trailhead