Meet at the Bottom, August 2002, North Kaibab/Bright Angel Trails
Meet at the Bottom, August 2002, North Kaibab/Bright Angel Trails
August 2002
David Sheppard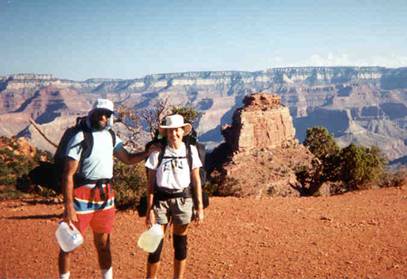 David and Sara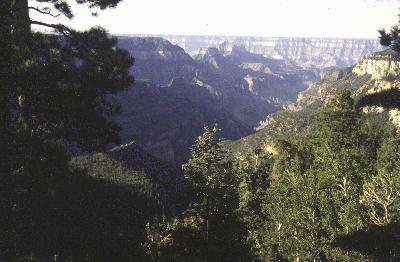 Start of the North Rim Trail
Photo by Bob Ribokas, www.kaibab.org
Summer, 2002 - Sara and her mom, dad, sister, and niece Livi and nephew Ollie all piled into a van and went west, leaving David sad and lonely working hard at home. They were all going to Laughlin, Nevada, the hottest place in the country, for the annual Marifian-Newton dual family reunion. Sara's sister Teresa married John Marifian, and they and several other Marifians now live in Los Angeles. A whole convoy drove west from L.A. and another drove east from Belleville. The Belleville convoy was only one vehicle this year, others flew. Flying into Las Vegas, and driving down for the festivities were Jeanne (yet another sister) and Tom (Jeanne's husband), Larry (Rita's husband), Kyle (no explanation necessary, but Sara and David's son for those who need an explanation) and Regan (Kyle's mate-girlfriend). Amongst the crowd were several owners of several motorboats and ski-doos (like motorcycles for water). Luckily there is also a big lake at Laughlin, it gives people something to do with the boats other than admire them in the parking lot. Otherwise, Laughlin is a group of ugly casino hotels beside the Colorado River surrounded by beautiful desert, about a hundred miles south of Las Vegas.
Shortly before this year's reunion, two groups of bikers had settled some arguments in the hotel with guns and knives. Things had settled down to normal again by the time the Marifian-Newton Clan arrived.
By road from St Louis, Laughlin is only a day past the Grand Canyon, so when Sara and I were deciding on our vacation spot this year, I said that since Sara was already in the area, I would meet her at the Canyon. Her sister could drop her off at the South Rim, and I could ride the Harley to the North Rim. We could hike down from opposite sides and meet at the bottom.
My friend, Aubrey, at work said, "You should fly. You are going to waste three days on the road getting there." I cried out, "Waste? Waste? Who could possibly describe three days on a Harley as a waste? When you're on the road on a motorcycle of any kind, you are already THERE. It will be three days of heaven! And six days of heaven on the way back with Sara. Waste!?" Aubrey just shook his head, I shook my head at Aubrey shaking his head. They're used to me at work, but they just forget sometimes.
My three days on the Harley was indeed heaven. For the technically minded, my Harley is a 1975 FLH 80 cubic inch Shovelhead, converted from some sort of dresser to a Wide Glide. We call it "Tucker" in honour of the previous owner, whose name still appears engraved on the points cover. It has a suicide clutch and jockey shift with a glass doorknob. It has kickstart only. It is hard to start, leaks oil, has a spray-can paint job ("Autumn Red"). I bought it in 1987 in Phoenix when it spoke to me in the front lot of Bob's Motorcycles. A Harley rider once told my friend Rudy that FLH stands for "Fricking Large Harley" (he didn't say "fricking", though).
There was a minor delay at first when I checked the weather on the Internet and saw great green blobs right on Highway 70, and moving towards me. Green blobs mean thunderstorms, so I decided to shave my head for the first time in my life and then take a nap for a while. I had planned to leave at 5pm, but finally left at 10pm, after the storms had passed over.
I got half way across Kansas in the dark, which is the best time to see Kansas from the road unless you like wheat farms. After dawn it was a long, flat day. And pretty hot. At the Colorado border there was more flatness. It's a trap for travelers heading west to think that the Colorado border means mountains. It does, but not for another several hundred miles. Eastern Colorado is flatter than Kansas, and they're both flatter than the Nullarbor.
Finally the Rocky Mountains loomed on the horizon. But to my left, the south, was a huge black thunderstorm and it was heading north. I had been watching it over the plains for quite a while. It looked like it was going to cross my path at Denver. A few long fingers of cloud that looked as heavy as lead crossed the highway in front of me. They were so low that I ducked as I went under them. A few ominous drops hit my glasses. I could see the city of Denver as I approached, or rather I could see half of it. The southern half had disappeared under torrential rain that made the clouds meet the ground. Flashes of lightning pierced the solid gray. The good news was that the highway went through the north part of the city, and I hoped I could ride fast enough to pass the storm before it engulfed the road with me on it. The bad news was that it was 5pm, rush hour traffic. I hit a lot of very heavy traffic, it slowed to a crawl several times and a few big drops hit me. The blackness and lightning was creeping ever closer. I would have to stop if it got to me. Just as the big mass of clouds reached the road, the traffic opened up and I sped past the storm. The rain obscured the road in my rear view mirror as I headed up into the foothills. I had escaped by only minutes.
There were still a few rain clouds around up in the mountains, but no lightning. I dodged them for a while by sheer luck, but finally I had to stop and put my rubber pants on. I didn't want to stop as long as there was a patch of clear sky ahead, which there always seemed to be. So I pushed on through the mountains, over the divide, until the weather cleared. Then I spied a Subway, a welcome sight on the road, and stopped for a sandwich at about 10 pm. I don't know if Subway has made it to Australia yet, it's a sandwich chain. They make good, fresh sandwiches, much better than the Fried Fat type of fast food places.
On the road for twenty-four hours straight. I had enjoyed every second, but now I was more than tired. I stopped at Glenwood Springs to ask about a motel. Seventy dollars a night seemed a bit steep, "Well, it's a resort town", said the innkeeper as explanation. I pushed on. I got a room for $40 at the next town, Salt, Colorado. It was about midnight, and I was ready for a shower and a bed. I checked the weather, Grand Junction fine and 105? next day. It was going to be a hot one.
The next morning I stopped at Grand Junction for a map, food, and oil. The old Harley uses a bit of oil at the best of times. I always tell Japanese bike riders that I'll worry if my Harley stops leaking, then it'll be out of oil. At mid-morning the temperature was already 100?, and the sun was beating down. Heat is better than rain any day. I was cruising at about 60 mph, taking it easy on the old bike in the heat.
From Grand Junction I headed south into Utah, on one of the great roads in the world, Highways 24 and 12 to Kanab, Utah. It goes through country which is amongst the most heat-blasted barren desert in the world (comparable to Coober Pedy, South Australia). Large areas were nothing but coloured eroded dirt with loose rocks and a few rocky mesas. Then a surprising river valley with red cliffs. I passed Capitol Reef National Park, a spectacular red-rock desert area that Sara and I had visited before. Then the road leads over a high mountain range with green meadows, aspen and pine forests. The temperature drops 20 degrees up in the forests. The ridges open out to views of multi-coloured deserts in three directions. Down the mountains, over a high frightening rocky ridge with deep canyons on both sides. The top of the ridge is barely enough to hold the road. Then through the remarkable fairyland scenery of the Bryce Canyon area, with its bright red, yellow, purple, white and orange clays eroded into amazing shapes.
Kanab, Utah, is a beautiful little town. It's a vacation town on a famous driving circuit of National Parks including Grand Canyon, Bryce Canyon, Zion, Capitol Reef, Canyonlands and Arches. All except Grand are in Utah, which is hardly ever mentioned in Australia as one of the most scenic states, but it definitely is. I liked Kanab additionally because I was starving and there was a good restaurant. Sara saw Kanab on the way back and said that she could retire there, like right now. I agreed. We're only pennies away from retiring (in our dreams).
I slept at Jacob's Lake, only a few miles from the North Entrance to Grand Canyon. It was cool enough for me to sleep in my sleeping bag and keep my head tucked in. I arrived in the dark and woke up in a beautiful Ponderosa pine forest. The road continued through high mountain meadows and forest. I saw a family of wild turkeys, a few deer, and several circling birds that could have been hawks or eagles or buzzards, or even one of the California Condors that have been released in the area.
At the North Rim campground, the hosts George and Shirley (retired people who volunteer at the Canyon in the summers just for fun, what a life!) found a place to stash all my motorcycle baggage, and I was set. I packed my gear, and despite losing three granola bars to a thieving crow, I was in good shape for the morning. I even had time to walk a short way down the North Kaibab Trail just to make sure where it was, because I would be leaving in the dark next morning.
Saturday, July 13 - I woke every half hour till I decided to get up at 3.00am. The trail head was about 20 minutes' walk away. It was still dark, and pleasantly cool. I started hiking down the trail at 4.00 am. I had to use a flashlight for only about 20 minutes. As the light slowly grew, the vista of Bright Angel Canyon began to emerge, jaggedly stretching south towards the main canyon, framed by the tall Ponderosa pines of the upper part of the trail. Distant dark gray ridges showed against a lighter gray sky. Slowly they became lighter and tinged with hazy colors like a faded tinted postcard. The colours gradually brightened as the sun rose. The light hit the high layer of pale sandstone first giving a luminous golden cap to the gray ridges, then the red colors of the lower layers started to glow. And finally the light reached down into the canyons, revealing the awesome volume of the great hole in the ground that is the Grand Canyon. After the heaven of my Harley ride, I was in heaven a second time.
It was about 70°F when I started, very pleasant walking weather, even cool. The stupendous view was unfolding in front of my eyes and under my feet. I could see across the vast space to the south rim with all the multitude of ridges and cliffs and canyons in between. It was getting warmer step by step, and I was heading into the desert, my favourite terrain. I found myself thinking, "Here I am, doing what I have been anticipating for months, and probably exactly what I would choose to do in all the world if I had a choice. I have no worries for the next six days except the minor circumstance of avoiding death by heat stroke. I am going to meet Sara, the one person in the world I most like to be with, in the most interesting and exotic place I can think of. I am the luckiest man in the world. Thank you to whoever is responsible." I kept looking around at everything, the distant view, the closer cliffs, the plants, the rocks, the dirt, my feet on the trail - and touching the trees, plants and rocks - just to fix it all in my memory. I knew I had a pearl in the oyster of life. And I usually don't like oysters.
I walked down and down and down. I took a break for breakfast at the Supai Tunnel picnic area. This is a large, flat space shaded by trees, with a water faucet and a composting toilet, and mule-tethering rails. It is a turn-around point for the half-day mule ride. There is a tunnel through the Supai rock formation, hence the name! It is about two miles down from the trailhead. It had taken me about 45 minutes, so I calculated my pace so far as about two and a half miles per hour. I was pleased with that because I had been thinking that with the steepness of the trail, the impending heat, my heavy backpack, and my advancing years (I think I'm 51), that I might possibly be facing a 12-hour walk for the 14.2-mile trail to Bright Angel Campground.
The main rules about hiking in the desert in the summer are: drink a lot, eat a lot, rest a lot, and urinate. If you're urinating normally, then you're drinking enough. If you aren't urinating normally then stop in the shade, rest, and drink. I was prepared to rest in the shade as much as was necessary. I had the luxury of following a creek for most of the way, and I had a purifying pump with me, so water was not a worry. And I had tons of good food and snack items, even though the North Rim campground crows had lightened my load.
I progressed through the different colored and textured layers of Grand Canyon rock formations with their fantastic and evocative names - Kaibab, Toroweap, Coconino, Hermit, Supai, Redwall, Muav, Bright Angel, Tapeats and Vishu. As the rocks changed, and the altitude decreased, the vegetation changed also. The ponderosa pines disappeared and gave way to the smaller, scrubby juniper and pinion pines, then to desert scrub and cactus, with lush willow, the invader tamarisk, and other greenery beside the creek.
For quite a while you can hear Roaring Springs before you see it. In fact I heard it from a lookout on the North Rim the day before while burning the top of my head - new haircut, no hat. From between two rock layers in the side of a cliff across the canyon from the trail rushes a very large spring, and tumbles down a steep slope, then gurgles the rest of the ten miles through the bottom of the Bright Angel canyon to the Colorado River as Bright Angel Creek. It's a striking sight in the hot, parched desert country, and very welcome when you realize that the trail will follow the cool, clear, cold water all the way to camp.
Rounding a corner shortly after Roaring Springs I came upon a surprising house nestled amongst tall shade trees. It was a Ranger Station crammed on a small flat spot between cliffs and creek. There was a patchy lawn with a sprinkler going, and a table set up with a pitcher of icy lemonade (lemon squash to Aussies), some cups, and a jar for donations. A ranger lives there with his family, and I was told later that he has lived there for 30 years. He is responsible for the lemonade. I thought at first that the trees at the ranger station might be Cottonwood Camp, but then I realized that I was thinking wishfully, and I was still two miles away from Cottonwood, which marked the halfway point of my hike.
Cottonwood Camp came up pretty quickly, and I checked out the campsites for future reference. This turned out to be important because some sites have beautiful shade and some have none at all. I made a mental note to arrive early on the way back.
The last 8 miles or so was at a pretty gentle slope. Good walking. Just as well because the day was really heating up, probably about 100°F by 11am. It wasn't oppressive, yet. I was still feeling great and thrilled to be where I was.
About every hour, I found shade and rested by taking off my backpack and lying on my back with my feet up on a rock, or sitting with my bare feet in the creek for about 15 minutes. Lying with your feet up is a recommended method for draining fluid and waste products out of your legs and keeping them feeling good. It seemed to work, except on blisters of which I had a few. Once I was lying this way under a huge rock, big as a house, embedded in the slope beside the trail. Looking up, I thought that one of these centuries that rock would fall, and I hoped it would hold off for ten more minutes. I thought about moving, but as I was thinking I dozed off. The rock stayed where it was, but it was kind of eerie to have a couple of thousand tons of rock sitting on loose gravel six feet above your face.
Eventually I saw two hikers playing in the creek. They had sandals on so I knew I was close to Phantom Ranch. (You don't hike far in sandals I thought. I was later proven wrong.) Bright Angel Campground, my destination, is next to Phantom Ranch. They said I was only a few minutes away. I had mixed feelings, I was looking forward to a rest and to seeing Sara, but I had enjoyed my hike so much that I didn't want it to end. However, it was quite hot, well over 100°F, and I was tired, so I headed through Phantom Ranch to Bright Angel Campground and took the first site near the bridge as arranged with Sara. It was just before noon, my walk had been about 8 hours. Then I lay down in the creek, a favorite pastime of summer hikers. You need to be careful to lie in the shade, because with the cool water running over your weary body, you can easily get sunburned without knowing.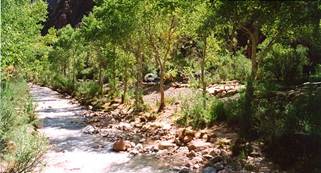 Bright Angel Creek at the campground
Photo by Bob Ribokas, www.kaibab.org
Later, I strolled up to the Phantom Canteen, a big room which is cooled with swamp coolers (air-conditioners that use water), and in which there is a little store. The store sells postcards, stamps, snacks, and beer! Mexican Tecate or Bud. So I had a Tecate while writing some postcards. You can get a postmark on the card that says, "delivered by mule from the bottom of the Grand Canyon", which is true since the mules carry most things in and out, including washing machines and refrigerators! I was feeling a little guilty drinking a beer without Sara, but I had waited as long as I could. Not long enough, though, because the beer or the guilt gave be a headache. So I drank more water and went for a walk down the trail to see if I could meet Sara. I passed the campground thermometer and noticed that it was over its limit of 122°F. It was in the sun, but later a ranger told me that it was 114°F in the shade, the hottest day of the year so far. The heat was now like a physical weight pushing down. It took a real effort just to walk slowly without a pack, and each piece of shade was a blessed relief. I walked down to the Silver Bridge, the westernmost of two bridges across the Colorado near the ranch and campground. The other is the Black Bridge, which joins the South Kaibab Trail. The Silver Bridge joins up with the River Trail, then the Bright Angel Trail, which starts 9 miles away at the South Rim Village, and which Sara would be on.
To confuse people, the Bright Angel Trail does not follow the Bright Angel Creek. The Trail is on the south side, and the Creek is on the north side. I guess the Trail goes to Bright Angel Creek from the rim, hence the name. The North Kaibab Trail follows Bright Angel Creek. Got it?
Sara had spent the night with her sister and nephew and niece and mom and dad at a hotel on the South Rim. The nephew and niece are 4 and 5 years old, so I knew that an early start was out of the question. Sara later told me that Oliver, the headstrong 4-year-old wanted to come with her, but Olivia, the wise 5-year-old said that she would like to go when it was cooler. Oliver saw reason and said that he would come with us when he was 10, so Sara made a date.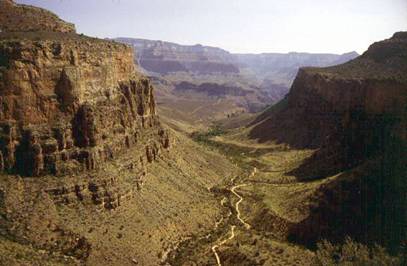 Bright Angel Trail from the South Rim, beside Garden Creek Photo by Bob Ribokas, www.kaibab.org
It was about 2pm, and I thought that Sara would be arriving any time. The heat was now at a dangerous level, and should add a few resting hours to the normal hiking time if the hiker is sensible, which Sara is. (She married a Sheppard man didn't she?) I met some hikers at the bridge and asked if they had seen a tall, slim, young, beautiful woman with a big backpack hiking alone. They said yes, they had passed a person matching that description resting by the trail a couple of miles back. I was happy at the news, another hour or so I thought to myself.
I diddled around for a while, sleeping in the creek, writing a few more postcards, strolling around, checking my watch every few minutes, until finally about 4pm I saw Sara walking towards me talking to another woman. I was happy to see that Sara was laughing and looked well. I said hi to the other woman, and she walked on towards Phantom Ranch.
Sara explained to me that she had met a Dutch man, Hank, on the trail. Hank and a woman companion were heading up the steepest part of the Bright Angel Trail, a stretch called "The Corkscrew". Hank was almost in a panic and felt he couldn't continue, but didn't want to lose ground by going back downhill either. They were very low on water, although only about an average walking hour from Indian Gardens where there was water. So Sara gave them some of her water and made them sit in the shade of a large rock and promise not to move for at least two hours. The woman wanted to continue since they were lagging behind a group led by a professional guide who had amazingly gone on ahead and left them to fend for themselves. But Sara made her stay with Hank who was in no shape to make wise decisions for himself. Sara then continued down the trail, and found a good resting spot in the shade of a cliff beside a stream.
She was having a snack when suddenly Hank appeared stumbling down the trail in very bad shape. Sara made him lie down in the shade on her sleeping mat, and she gave him her precious camping pillow. She then wet him down with creek water, and made him drink and eat a little, although he said he couldn't eat, a bad sign. Sara stayed with him for over an hour, then continued on to Phantom Ranch to look for me and to notify a ranger. She was almost out of water, too, from giving it all away. We had a dinner booking for 7.30, and Sara was thinking of hiking back the two miles to Hank and walking him in to the Ranger Station, but she would have missed dinner. Fortunately, we met some rangers, who called an emergency phone on the trail near where Hank was resting. A kind hiker picked it up and agreed to bring Hank in with him, so Sara was off the hook for the time being.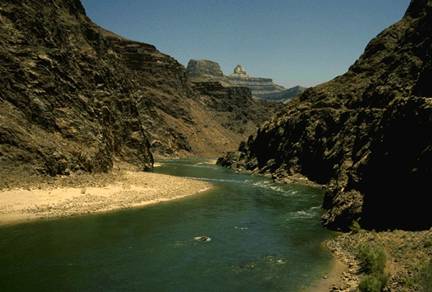 The welcome sight of the Colorado River at the bottom, but don't go swimming. Many who have are still missing.
Photo by Bob Ribokas, www.kaibab.org
The rangers were furious at the professional guide for leaving Hank behind. Apparently it's almost a law that groups are responsible for all their members in the Canyon, no matter what. Groups have to stay together and help each other, otherwise the National Park Service can issue tickets and fines, and revoke licenses. The rangers tracked down the guide at the campground at the South Rim, and told him to meet Hank at Indian Gardens, half way down, next morning at 6.30am! Someone would walk up with him if he was capable in the morning.
The woman that Sara was talking to when I met her on the trail had a very strange story. She said that she was with a group from her work, all women, who were verbally abusing her so much that she needed to get away from them for a while. That's when she saw Sara and asked if she could walk the rest of the way with her. She said that the group hadn't seen one particular woman for a few hours, and didn't know where she was, and she had the car keys. The missing woman had also detached herself from the group because they were picking on her. They weren't sure whether she was in front of or behind them, but perhaps had turned around and gone back up. Later that night, we heard about a woman who had arrived late at the ranger station with the story that she had been with a group who were so abusive to her that she couldn't hike out with them tomorrow, so she said she needed an emergency evacuation by mule or helicopter. The ranger said she was physically OK, so didn't qualify for emergency evacuation, she was freaked out by the mean treatment of people she thought were friends. This woman turned out to be the missing woman with the car keys. The rangers eventually called the whole group to a meeting and read them the riot act, and the last we heard they agreed to take the freaked out woman back into the group and treat her nicely, at least till they were at the top again tomorrow.
At dinner, all the diners were excited and eager to talk about his or her trips and listen to other stories. The beef stew was thick and rich and delicious, and there was plenty of it with salad, bread, and chocolate cake. We sat next to a man who was an unexpected guest. His traveling partner was in the ranger station sick with heat exhaustion, so the rangers had let him stay for the night so he could hike out with his friend the next day. He was given a meal and a loan of a sleeping bag for the night. We were wondering by now how many sick people could that ranger station hold? It looks like a standard sized house, and has to fit five or six rangers in it besides all the sick and crazy people. The rangers told us that almost all people suffering from heat exhaustion recover and walk back out after an overnight stay.
After dinner, we went to the ranger station to see Hank. He was sitting with a ranger, looking happy to be alive, drinking Gatorade. The rangers were taking his vital statistics and were on the phone to a doctor getting medical advice. They said that as long as he urinated before morning, he could walk out tomorrow because that would mean his kidneys would be working, quite important. We offered to go with him, since our second day's plan had been had been vetoed. Our planned next hike, three days to Clear Creek, was closed due to extreme fire danger. We found out by chance when we asked if we could stash some gear at Phantom Ranch while we hiked there. Sjors, our friendly ranger, said, "Oh, I guess they didn't tell you yet, you can't go there. The area is closed. They tried to notify everyone." He changed our itinerary for us, and suggested a few day hikes to fill our time. So taking Hank to Indian Gardens sounded like fun. It would also save a ranger from having to do it. They have enough to do.
Hank looked to be a very fit man in his late fifties, very lean and tanned, with thick, straight white hair falling over his forehead. His English was very good, and he surprised us by telling us he was 69! He said he walked a lot in Holland, but that was no preparation for the Canyon in summer. He still didn't believe that a person had to drink a liter (= litre or quart) per hour. He had Sara's mat and pillow with him, much to Sara's joy. We left him there with the rangers still checking him, and making him eat and drink and try to urinate.
That night, after a doctoring session on Sara's blisters (she had more blisters than toes), we were sort of sleeping on our wet mats and sheets in our wet clothes, and with our water bottles beside us to sprinkle ourselves down to stay cool. It was still about 100?F at midnight! A ranger brought Hank with a borrowed sleeping bag to sleep at our site, so we could get an early start.
It cooled off to about 85?F by 4.00am, when everyone at the campground was getting up. At 4.30, first light, everyone started up the trail. Most were heading up the Bright Angel Trail to the South Rim, Indian Gardens is on the way. Hank insisted that he had urinated and felt good, so off we went. Sara wore sandals and socks to save her poor toes. Shortly before Indian Gardens, we met a big, strong, young bloke who saw us and said, "Is that my Dutchman?" We were happy to see him, especially as he was very well prepared with plenty of food, juices and water. He looked strong enough to carry Hank if needed. He turned out to be a real nice guy, but I think he learned a tough lesson from the rangers about leaving guests on the trail. Hank was still happy and ready for the hike. He thanked Sara profusely, calling her his Angel.
We waved goodbye and saw them disappear up the trail. We rested a little more and doctored Sara's toes again. We thought about taking a side hike along a piece of the Tonto trail across to South Kaibab, but at about 7.30am it was already too hot for a trail that had no shade like that one. We went back down the Bright Angel Trail, stopping at a waterfall with a small swimming hole for a cooling dip. We spied what looked like black weeds growing in the water where it was running over a rock, but the "leaves" were moving by themselves, waving like leeches. They were only about a quarter of an inch (6mm) long. We made a mental note to look them up.
Back at the campground we talked to Ranger Sjors (Shaws) again. He told us that the black things were insect larva. We had met Sjors before on other trips, and he is the epitome of a park ranger. He knows the answer to every question about the Canyon, he tells you the rules about being in the Canyon and explains their reasoning in a cheerful but insistent way, he loves the campground, the plants, the animals. He is full of fascinating stories about rescues and storms and flash floods. It was he who moved all the marauding squirrels out of the campground across the river to save the squirrels and the campers' food. He had tried to move the deer, but they kept coming back, and unfortunately several had eaten plastic bags and had to be put down. Sjors told us that we had the double distinction of having arrived on the hottest day of the year, and the lowest attendance at the Campground. Probably not a coincidence. He had been there at Phantom Ranch for 13 years. We asked about his salary, and he said, "Oh, just pocket money. I'm a volunteer." "You're what?" "A volunteer." Wow, we thought, I guess he likes it here. He has found his heaven. Sjors wouldn't tell us his last name, but I found it out. He told us about a rescue he had been in, of a woman climber who had fallen from a cliff quite nearby, close enough that he could point it out to us. He is named in a description of that rescue in the book, "Over the Edge: Death in Grand Canyon", which Sara's sister had given us just before we left. Nice sister! It didn't work, Jeanne, we went anyway!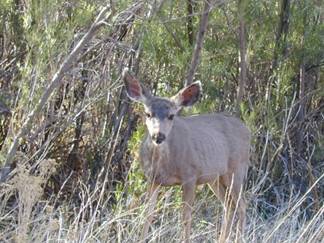 Mule deer native to the Grand Canyon
It rained that afternoon, our second day. It was just enough to wet the ground for a few minutes. But the next night, just after I had finished telling an English girl that she would need to wet her clothes to cool down enough to sleep, it poured for an hour or more. Sara and I had no tent, so we threw our fly over the picnic table and slept under it. The fly wasn't waterproof, so we slept with drips all night. It cooled down nicely, but even with our drips and just a sheet for covering, we slept comfortably.
People at the bottom of the Canyon are friendly. It must be the camaraderie of a shared experience and a shared love of the place (or at least respect if not love). Complete strangers will chat about anything. I was wearing a T-shirt from the Belleville city clean-up campaign, when a man walking by pointed and said, "Is that Belleville, Ontario, Canada?" "No, sorry" I said, "Belleville, Illinois". Then the very next person said, "Hey, is that Belleville, Michigan?" I had to say, "No, Sorry," again. I was waiting things to happen in threes, but the third man remaked on Sara's shirt, I think. We were chatting with this man, and as we said goodbye, he said, "You'll be easy to recognize on the trail." "Oh really?" we said, "How come?" He replied, "By your orange jugs". We assumed he meant our bright orange coloured water containers (ex-fruit juice jugs), but a little later I noticed that Sara was wearing an orange tank top (singlet). Which orange jugs was he talking about, I wondered? Sara said, "Honey, if I had any jugs I might be wondering, too. But don't wear your brain out."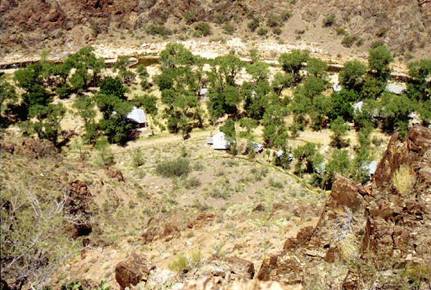 Phantom Ranch from Clear Creek Trail
Photo by Bob Ribokas, www.kaibab.org
On the morning of our third day, we took a hike on the first two miles of the Clear Creek Trail to see a bit of what we had planned. From Phantom Ranch, the trail leads up the first igneous rock layer, Vishnu schist, to a shelf at the base of the Tapeats Sandstone layer, which forms cliffs marked by many horizontal shelves. On top of the Tapeats is the Tonto Plateau, and that was what was closed for fire danger. There were spectacular overlooks with views hundreds of feet down over the river and Phantom Ranch. The trail wound through the Vishnu reddish-black crumbling rock, but was wide and well built. It is a popular half-day hike. We both went in sandals and socks to preserve the skin on our toes. Sara's feet had used up all of our bandaids and moleskin. We had to buy more at the canteen. Hiking in sandals is fine if you're not in a hurry. They have to be the type that strap on tightly, they can't be slipping around when you're inches from a drop that would hurt a bit. And some good advice I figured out myself: don't kick a cactus with socks on.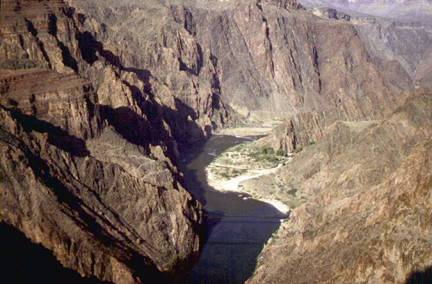 View of the river from the Clear Creek Trail
Photo by Bob Ribokas, www.kaibab.org
We had three nights at the bottom, and then two nights at Cottonwood Camp, half way out to the North Rim. We got a good shaded spot at Cottonwood, thanks to my previous scouting. We had been a bit worried about sleeping on the ground without a tent, mainly about snakes and scorpions. Our previous experience was with a snake, so we expected a friendly scorpion to wander through camp sometime. So far, though, only ants that didn't bite. We decided to set up Sara's Saucer, which is our tent fly with the edges raised, tied to the picnic table and rocks and whatever else (not trees or plants, that could damage them). The fly was a good size, so we accomplished our goal and still had room to sleep. It worked like a charm, no snakes, no scorpions, not even any ants! Sara has patented this design, so if you use it you owe her 17 cents US for each person per night. You can mail it to us.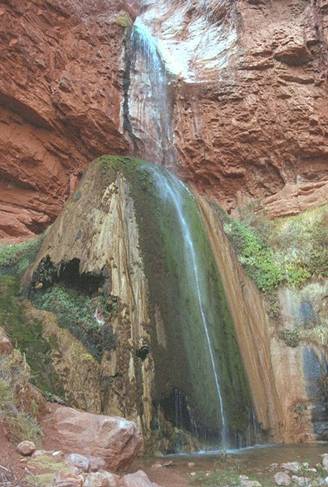 Ribbon Falls
Photo by Bob Ribokas, www.kaibab.org
We did a side trip to Ribbon Falls, just below Cottonwood. It is a waterfall that has built up a big rounded dome of minerals where it lands. The dome was described as "travertine" in something I read. Moss grows in furrowed rows vertically down the side of the dome. This dome is hollow, and it's about 30 or 40 feet high. It's so unusual looking that you can't quite believe what you're seeing. You can climb around the back to the top and stand on top of the dome, right under the falls. The water hurts a bit from the height of the fall. There was another couple there, and they warned us not to turn our backs on our backpacks because a squirrel had just eaten through one of their packs and stolen several Orio cookies (in Australian, dark chocolate biscuits with white vanilla icing). We saw that little critter sneaking around as soon as we put our packs down. We had to take turns going up to the top of the falls and waiting by the packs, throwing stones near the cookie thief to keep him away.
Our final day in the Canyon came. It was a long, steep slog, but so beautiful I never wanted it to end. We met a family also heading upwards, having come from the South Rim (there is a bus shuttle for those who want to hike all the way across). The mother's boots were taped up with tons of duct tape. We asked what happened, and she said, "They melted." Apparently, on that hottest day, the soles had started flapping, then one fell off completely, followed by the other. The glue had melted, or possibly dried out. She had struggled along by stuffing paper in the boots, borrowing other footwear, and walking in multiple pairs of socks. At the ranger station, Sjors had recommended screwing the soles back on, but in the absence of the correct screws, the rangers came up with duct tape. So far so good, she said. Later, at a rest stop, we heard another hiker tell his friend, "Hey, did you hear about the woman whose boots melted off?!" We were in at the birth of a Grand Canyon myth. Such an honour.
At the Rim, we had two nights at the Lodge. We rested a lot, drank some expensive but good beer, strolled around the Rim Trail, and ate at a restaurant with the best view in the world. I fixed the Harley, a minor problem involving a flat battery and a wiring short, no worries. Sara spent a lot of time writing down all our finances to figure out how we're going to retire to Kanab and visit the Grand Canyon whenever we feel the urge. We'll let you know.
The six-day ride home was great. We rode back over Highways 24 and 12. We dodged rainstorms the whole way home. Many times we would be heading straight towards a big, black cloud but when we were almost under it, the road would curve under the one small patch of blue sky on the horizon. We led a charmed life. We stopped off at Great Sand Dunes National Park in Southern Colorado on the way. A freak of prevailing winds has deposited a field of dunes about 12 miles long, 5 miles wide, and hundreds of feet high between two mountain ranges. It was the newest American National Park as at July 2002. Not very well known, but spectacular and highly unusual.
Back at home, back to work, back to two lousy weeks' vacation. But I was in two different heavens for a short time. The memories will last till Sara and I move to Kanab.
A great Grand Canyon web site - www.kaibab.org
A great Grand Canyon book - Over the Edge: Death in Grand Canyon
Copyright © 2003, by David Sheppard, Belleville, Illinois
Copyright © Bob Ribokas, 1994-2002, all rights reserved. This publication and its text and photos may not be copied for commercial use without the express written permission of Bob Ribokas.