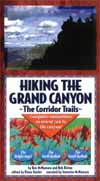 HIKING THE GRAND CANYON : The Corridor Trails
by Ken McNamara and Rob Kleine
2000
This tape provides an overview of the Grand Canyon's famous corridor trails: the Bright Angel Trail, South Kaibab Trail , and the North Kaibab Trail, the so-called corridor trails. Presented from a hiker's perspective, this tape will help you prepare for your first Grand Canyon hike/backpack. This tape is also a perfect way to re-experience your last GC hike from the comfort of your favorite arm-chair.

Harvey Butchart, the man who has hiked more of the Grand Canyon than anyone, says, "I've been using [this tape] to show my friends the Canyon from my point of view".

Recommended for first-time and experienced Grand Canyon hikers/backpackers.

Running time approx. 1 hour. NTSC format.