Day 1 - Saturday, March 28, 2015
12:15 - Camp Sweet Camp
I arrived at Bright Angel campground at 1215 and took the first site over the bridge next to the creek. Most of the sites are still empty so I have my pick but this one is closest to Phantom Ranch and for a quick exit early tomorrow morning. I am not going to setup my tent so I need to store whatever I can in the ammo boxes.
It sure feels good to be here. The last mile or so of the trail was very warm and verging on hot in places but there is a cool breeze blowing along the creek.
This campsite is one of the few that has any shade which is rather nice. There is lots of white fluff blowing around which I assume is from the cottonwoods.
I did not sleep well at all last night and cannot be sure I slept at all. Strange since I did fall asleep while watching a video. I seemed to see all of the hours pass on the clock though. The alarm was set for 400 but I got up at 345. That was good as it actually enabled me to get out of the house by 430. The drive up to the Canyon was not so much fun feeling so tired. I saw several elk along the side of the road and that makes me very nervous. I arrived at Yavapai Point right around 600 and sunrise was around 620. It was glorious!
I was at the El Tovar for breakfast when they opened and had the breakfast quesadilla. I told the waitress I wanted it without meat and she asked if I would like for them to add some fresh avocado instead. Yeah, twist my arm. It was delicious.
I was over at the Backcountry Office when they opened at 800 so was able to weigh my backpack. It topped the scale at 47 pounds which isn't too bad. It was probably close to 20 pounds lighter than the past few trips but then again I was hardly carrying any water, just one quart to get me down here.
The shuttle bus to the trailhead came a little after 800 and I was at the South Kaibab Trail at 830 and on my way down. I took two short breaks of maybe 10-15 minutes each. The first one was at some shade just below Skeleton Point and the second was in some more shade just below The Tipoff. Time to get down here was about 3:45 but actual hiking time was around 3:15. Not too bad.
Ok, time to empty the backpack and make some lunch.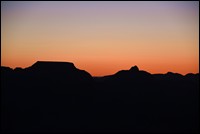 Pre-dawn sky - Yavapai Point, Grand Canyon, Arizona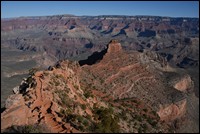 O'Neil Butte - South Kaibab Trail, Grand Canyon, Arizona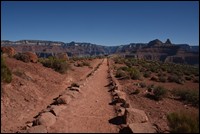 Trail view - South Kaibab Trail, Grand Canyon, Arizona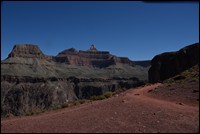 Zoroaster Temple - South Kaibab Trail, Grand Canyon, Arizona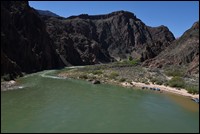 Colorado River from the Black Bridge - South Kaibab Trail, Grand Canyon, Arizona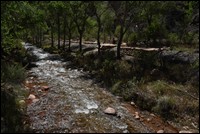 Camp Sweet Camp - Bright Angel campground, Grand Canyon, Arizona