Saturday, April 16, 2005
7:30p - Nankoweap camp It was another wicked long day. We were all on the "trail" at 5:30 this morning, headed for Kolb Arch. We didn't make it, well, not really anyway. We did get close enough to see it pretty good but we did not actually get up beneath it.
It was almost noon when we finally broke out into the upper drainage that leans to the arch above the falls. It had taken 6+ hours to get to that point and we still had at least an hour to go to get to the arch itself. It was still about a mile away, give or take. Had we continued we would have got there around 1, probably would not have started back until 2 and would have been coming back into camp very late---by headlamps in darkness. So we aborted the attempt. Normal trails might be okay for hiking at night by headlamp but not the backcountry around here. We had lunch where we were above the falls and then started back right after that.
My feet are KILLING me and the hike back to camp was, at many points, pure agony. I still don't have any blisters, they are just sore. Chuck says it is a bone bruise caused by the muscles being squeezed between the bone and too many rocks... too much rock and boulder hopping. Tomorrow was supposed to be the Nankoweap Mesa day hike and that simply is not going to happen. I need a day to rest up my feet for the hike out.
Tomorrow I am moving camp to the river, Little Nankoweap delta, along with Chuck and Sam. I am going out with them through Little Nankoweap canyon on Monday, a day ahead of schedule. I am going to camp on the rim next to Saddle Mountain on Monday night and then head back to the car on Tuesday. Depending on how people feel tomorrow afternoon we may start the hike out late in the day and camp somewhere above the Redwall that night.
I am very glad that Chuck lead this hike today because I probably would not have got as close on my own. He sets a very quick pace and I don't understand why we didn't make it. We did stop for about 20 minutes on the way up while he documented an archaeological site we stumbled across but that alone would not account for it. That guy from Arizona Highways must have been flying... I thought we were. It doesn't make sense.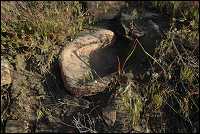 A very nice metate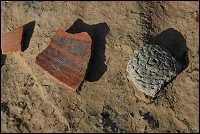 Pottery shards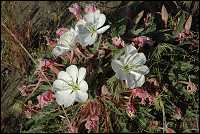 White-tufted Evening Primrose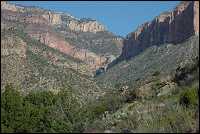 Our first view of Kolb Arch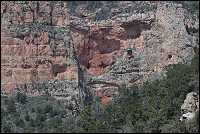 Kolb Arch and small waterfalls above and behind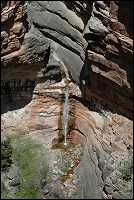 Lower falls along the route up to Kolb Arch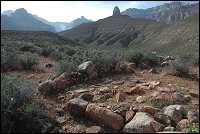 Ruin on the way back to the creek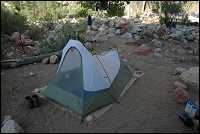 Camp Sweet Camp