Kaibab Lodge
Seasons Of Operations | 2004 Rates | Photos From Kaibab Lodge
Located 5 miles north of park boundary, 18 miles north of north rim.

Open mid-May through Mid-October.

Note: Some services, including lodging and gasoline may remain open at Kaibab Lodge after National Park facilities close on October 15th.
Seasons Of Operations
The Kaibab Lodge opens for the summer season in mid-May on the day the State of Arizona traditionally re-opens the Grand Canyon North Rim Parkway (Arizona State Route 67).

Full services (including gas and diesel) at the North Rim Country Store will be available from mid-May until mid-November.
2004 Rates
May 15th to October 15th (Closing date is subject to change)
| | | |
| --- | --- | --- |
| 1 Double bed | (1 - 2 people) | $80 |
| 2 Double beds | (1 - 2 people) | $85 |
| 2 Double beds | (3 - 4 people) | $93 |
| 3 Double beds | (1 - 3 people) | $95 |
| 3 Double beds | (4 - 5 people) | $103 |

Non-smoking / no pet units

| | | |
| --- | --- | --- |
| 2 Double beds | (1 - 2 people) | $95 |
| 2 Double beds | (3 - 4 people) | $100 |
| 2 Double beds* | (1 - 4 people) | $125 |
| 2 Double beds* | (1 - 3 people) | $125 |

(*new eastview units)

Sam's Cabin, Deerview and Meadowview

Sam's Cabin is an old cowboy cabin that has been completely remodeled and updated for guest use. It contains two double beds and a set of bunk beds to accommodate a family of six, and has satellite TV available. It rents for $110.
Deerview is a modular home set at the top of a beautiful meadow with a great view. It has a queen size bed in a private bedroom, bath tub with shower, microwave, refrigerator, living area with satellite TV, and a sofa sleeper to provide an additional double bed. This is a nonsmoking and no pet unit, and rents for $130.
Meadowview can accomodate 2 - 4 persons and rents for $150.

Additional @ $10 each up to 8

Rates are subject to change without notice.
Rates do not include 6.517% sales tax.
Rates are non-commissionable.
There is no additional room charge for children 3 and under.

10 or more rooms require group rates
The Kaibab Lodge considers a group as occupying ten or more rooms. A separate price structure applies and rates are based on double occupancy that include lodging for one night, a full continental breakfast, dinner, tax and tips. (Alcohol, dessert, and beverages other than coffee or tea at dinner are excluded.) If you are interested in a group booking, please ask for Linda for our group rates and policies.

Please Read Carefully!

Reservation/Cancellation Policies

Guarantee Policy
With few units and a high demand for rooms, we must have a strict room guarantee policy. A credit card number will be held to confirm your reservation only until 5 pm on your day of arrival. If you do not arrive by 5 pm, we will release the room in an effort to resell it. If we do not resell your room, your credit card will be charged.

Late Arrival Policy
To guarantee your room for late arrival (after 5 pm), prepayment of the first night is required. The lodge is located in a remote area. Telephones are few and the lodge has only one reservation line. Do not take a chance on being detained and unable to reach the lodge - prepay the first night to guarantee the room no matter what time you arrive. Mail your prepayment to Kaibab Lodge, HC 64 Box 30, Fredonia, AZ 86022, Attn: Lodge Reservations. Prepayment is refundable, less a $10.00 booking fee, if the reservation is cancelled properly.

Cancellation Policy
Cancellations must be received by 3 pm, 72 hours (3 days) before arrival date. If you don't keep your 5 pm reservation or cancel within the 72 hour period, and we are unable to resell the room you reserved, your credit card will be charged for that night's rate. Cancellations are taken 8 am - 9 pm at 928-638-2389 during the Lodge's season, May 15 - October 15. As proof of proper cancellation you must receive and retain a valid cancellation number.
Phone: For reservations call 928-638-2389 (mid-May - mid-October);
E-mail: info@kaibablodge.com
Photos From Kaibab Lodge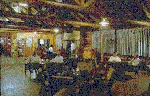 Interior of the lodge
Copyright © Bob Ribokas, 1994-2004, all rights reserved. This publication and its text and photos may not be copied for commercial use without the express written permission of Bob Ribokas.