Meteor Crater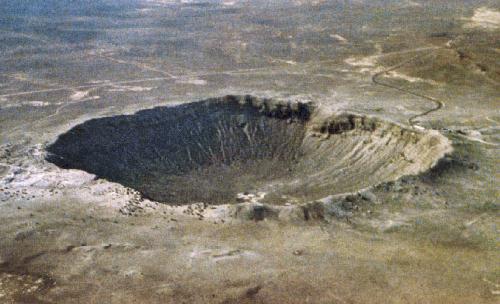 JPG, 500 x 304 x 256, 31K
Photograph by D. Roddy
Meteor Crater was created approximately 50,000 years ago when a solid nickel-iron meteorite smashed into the Earth. The meteorite was travelling at a speed of 45,000 miles per hour and left a hole almost a mile across and over 500 feet deep. The rim of t he crater rises 150 feet above the surrounding landscape and contains a three-mile footpath which visitors can walk to view the crater.
A museum, located on the crater rim, displays fragments of the meteor and also provides other exhibits on earth and space science.
Because of the suspected similarity with lunar craters the location was used during NASA the 1960's to train Apollo astronauts.
Open all year, admission charged.
More info on Meteor Crater
Copyright © Bob Ribokas, 1994-2000, all rights reserved. This publication and its text and photos may not be copied for commercial use without the express written permission of Bob Ribokas.