Lowell Observatory - Flagstaff, Arizona
The Lowell Observatory was founded by Percival Lowell in 1894. The observatory has a rich history of observations, among those being the ones that led to the discovery of the planet PLuto by Clyde Tombaugh in 1930. Lowell predicted the discovery of a ninth planet and spent years searching for it. The planet was named by a young British girl who named if for Pluto, God of the Underworld, because the planet is so cold and so far away from the Sun. The PL was definitely a PLus, as it happens to be the initials of Percival Lowell. Lowell was also fascinated with the planet Mars and as a result the name of the location which contains the observatory is now appropriately named Mars Hill.
The 13-inch astrograph, which is now known as the Pluto Discovery Telescope, was used in the search for Pluto and is still in use today. There are also several other telescopes located at the site, including the historic Clark telescope. The Clark telescope was used by Dr. Slipher in 1912 to discovered first evidence that the universe is expanding and is now used for public observing sessions. The mausoleum of Percival Lowell is located next to the main telescope dome.
Today, there are five telescopes on Mars Hill, two of which are used for the public. In addition, there are six telescopes used solely for scientific observation at Lowell Observatory's dark-sky site southeast of Flagstaff.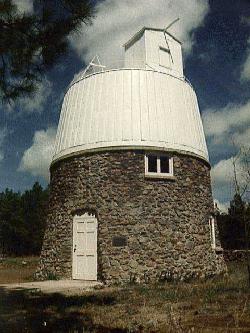 The Pluto Telescope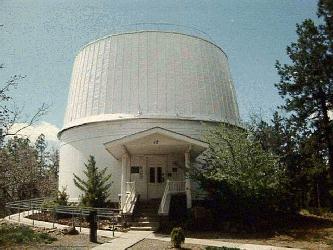 Dome of the 24-inch Clark Telescope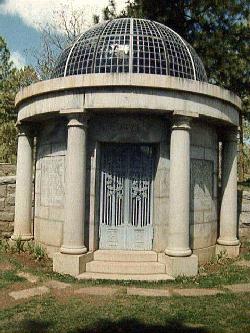 Percival Lowell's Mausoleum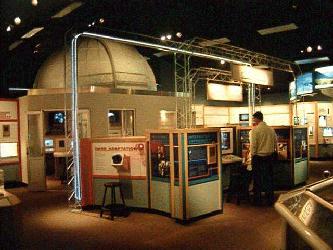 Visitor Center


---
Open daily from 9 am to 5 pm with tours at 10, 1, and 3 during the months of April through October.
Open daily from noon to 5 pm with tours at 1 and 3 during the months of November through March.
Call for nighttime hours.
The observatory is located 1 mile west of downtown, historic Flagstaff.
Call 520-774-2096 for public viewing schedule
Admission: Adult - $4.00; College Students/Senior Citizens/AAA - $3.50; Youth ages 5-17 - $2.00. Free for children under 5 years of age.
More info on Lowell Observatory.
Copyright © Bob Ribokas, 1994-2000, all rights reserved. This publication and its text and photos may not be copied for commercial use without the express written permission of Bob Ribokas.