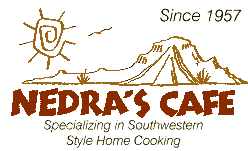 ---
One of the nicest parts of a visit to the Grand Canyon's north rim or to the canyonlands of southern Utah is finding the time to visit Nedra's as well. I fell in love with Nedra's home made salsa during my first visit (as most people probably do) and that was well over 10 years ago. The rest of her homestyle Mexican and western-style cooking are equally as delicous (at least those dishes which I have been lucky enough to try) and I am always looking for a chance to get back to Nedra's whenever I am in the area.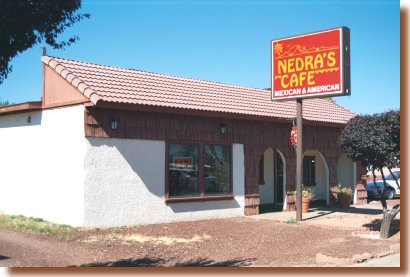 NEDRA'S CAFE is located in Fredonia, Arizona, on the west side of highway US-89A, phone 520-643-7591.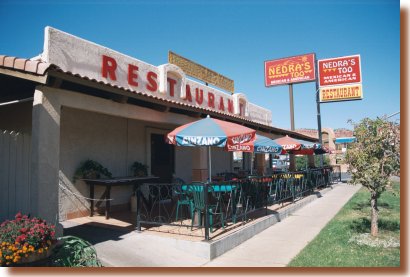 NEDRA'S TOO is locacted in Kanab, Utah at the junctions of US-89 and US-89A, phone 435-644-2030.
---
Click here or on Nedra's menu to view the complete dinner menu.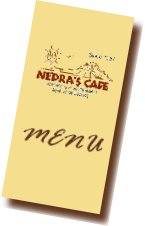 From the back of the menu...
About Nedra's...
Nedra was born in Kanab, Utah in 1917, the grand daughter of a Mormon Pioneer who had settled in nearby Paria Canyon. Her mother, Jesiel Brown, opened Brown's 89 House in Kanab in 1940, and thus began a long tradition in fine Southwestern cuisine.

Nedra opened her Cafe in Fredonia, Arizona in 1957, and began serving her own style Mexican food one day a week. Her reputation spread and a demanding clientele soon persuaded her to serve Mexican food full time.

For 40 years Nedra's has enjoyed a reputation for having the best Mexican food around, and has been a favorite stop for countless movie crews and stars. Frequent customers have included James Garner, Vera Miles, Sidney Poitier and Clint Eastwood. Sen. Barry Goldwater has been known to have gallons of Nedra's special sauce flown to his Arizona ranch.

Expansion in 1990 with the opening of Nedra's Too in Kanab, Utah.

Operated now by a daughter, Nedra Pauline, Nedra's Cafes symbolize a three-generation tradition of fine dining.
WESTERN MOVE FILMING CAPITOL
Due to our central location among the scenic, and geological wonders of the Colorado Plateau, the Fredonia - Kanab area has long been a favorite filming location for Hollywood's major motion picture studios.

More western movies and television programs have been filmed in this area than any other single location outside of Hollywood.
A partial list of Movies and Television Programs filmed in our area, are:
WESTERNS

Deadwood Coach (1924)
Dude Ranger (1934)
Ramona (1936)
Bad Man of Brimstone (1938)
The Lone Ranger (1938)
Drums Along the Mohawk (1939)
Stagecoach (1939)
Union Pacific (1939)
Brigham Young (1940)
Western Union (1940)
Billy The Kid (1941)
My Friend Flica (1943)
In Old Oklahoma (1943)
Buffalo Bill (1944)
Can't Help Singing (1944)
Thunderhead, Son of Flica (1945)
Smokey (1946)
Thunder in the Valley (1947)
Green Grass of Wyoming (1948)
Big Cat (1949)
Calamity Jane and Sam Bass (1949)
Red Canyon (1949)
The Outsiders (1950)
Oh! Susanna (1951)
Westward the Women (1952)
Bugles in the Affternoon (1952)
Pony Express (1953)
Yellow Tomahawk (1954)
Fort Yuma (1955)
Jubal Troop (1956)
War Drums (1957)
Sergeants Three (1963)
Duel At Diablo (1966)
A Rough Night at Jerico (1967)
Brighty of the Grand Canyon (1967)
Bandolero (1968)
Mackenna's Gold (1969)
The Man Who Loved Cat Dancing (1973)
One Little Indian (1973)

The Outlaw Josie Wales (1976)
Brigham (1976)
Donners Pass (1978)
Maverick (1993)
Geronimo (1993)
The Apple Dumpling Gang Rides Again
The Long Ride Home
No Place To Ride


CONTEMPORARY

The Alex Joseph Stort (1976) The Car (1977)


ADVENTURE, MYSTERY, SCIENCE FICTION

Arabian Nights (1942)
The Planet of the Apes (1963)
The Girl in Black Stockings
Again A Love Story


BIBLICAL

The Greatest Story Ever Told (1969)
In Search of Noah's Ark (1976)


TV PROGRAMS FILM HERE

The Lone Ranger
Death Valley Days
Have Gun Will Travel
Daniel Boone
Gunsmoke
How The West Was Won
Six Million Dollar Man
Grizzly Adams
Lassie
The Bionic Boy
Wagon Train
F Troop
Route 66
Biblical Stores
Branded
Click here to visit the official Nedra's web site at http://www.nedrascafe.com/