Ray Thomas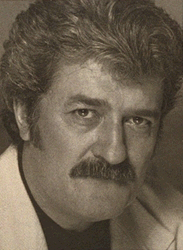 ---

Date of Birth:            29 December 1941
Birth Place:              Stourport on Severn
Education:                Paget Road, Secondary Modern School
Height:                   5ft 11in
Colour of Eyes:           Hazel
Favourite Food:           French
Drink:                    Scotch & Coke
Films:                    Zulu
Car:                      Rolls-Royce, Jaguar
Band:                     THE MOODY BLUES
Singer:                   Neil Diamond
City:                     London
Colour:                   Green
Writer:                   Handel
Special Likes:            Heavy Snow
Dislikes:                 Paying Tax
Hobbies:                  Fishing, I have a lake in my garden
                          My boat, "Myfanwy"
Ambition:                 To continue writing music
Pets:                     Welsh Springer Spaniel called "Taran"
Former Occupation:        Engineer

---
Ray started as an engineer, clocking in and working in factories. The Moody Blues came into being as the M & B Five, Mitchell & Butler Breweries were going to sponser a band with the initials M & B, but they didn't so the band received no money.

Ray formed the Moody Blues and is a lover of Symphonic sound as well as rock 'n' roll, Ray's solid voice provides the Moody Blues harmonies with a melodic middle while his flute is nothing short of haunting.

Ray is his own biggest critic and he says 'I have to live with me and play for myself'.
---
Compositions for the Moodies include:-

AND THE TIDE RUSHES IN, ARE YOU SITTING COMFORTABLY (WITH JUSTIN), DEAR DIARY, LEGEND OF A MIND, NICE TO BE HERE, VETERAN COSMIC ROCKER, SORRY, I AM, CELTIC SONANT, NEVER BLAME THE RAINBOWS FOR THE RAIN (WITH JUSTIN).

SOLO ALBUMS

     FROM MIGHTY OAKS
     HOPES, WISHES & DREAMS