Saturday, October 18, 1997
I followed the news all week. On Monday morning I heard the story about his plane crashing but refused to believe. There had been no "official" confirmation and so there was still hope. It must have been someone else in the plane. It could NOT have been John, not John Denver, not the man who flies with eagles.
But then the truth of the matter began to sink in as the e-mail from the Rocky Mountain High Fan Club began to pour in. Shortly came the word that there had been an official identification of his fingerprints. All hope was lost and I spent the rest of the week in utter disbelief. How could something like this have happened? How could John really be dead? I could not bring myself to play any of his music because I knew what would happen and I just didn't have time for it. On Friday afternoon, when I got home from work, I finally gave in and put on his Greatest Hits, followed by volume II and followed finally by Rocky Mountain High. It felt good to finally grieve for him and at that time I decided that the Grand Canyon Explorer web site should be dedicated to his memory. It was John Denver, after all, who more-or-less started this journey for me and it only seemed fitting that he be remembered for it.
I started listening to John's music when I was in high school in the early 1970s, a time of much confusion in the United States and around the world. Vietnam was just winding down and the environmental movements were just winding up. People were unhappy about the state of the planet and were finally starting to take things into their own hands. Some people had better ways of doing this than others. John's music rounded the sharp edges off of the nightmare and made you believe that there was hope, that man would figure it all out and in the end everything would be fine.
"For the children and the flowers are my sisters and my brothers, come and stand beside me, we can find a better way."
- John Denver
I remember when Rocky Mountain High was released and I remember becoming addicted to it. I must have driven my family crazy with it as I still remember playing it over and over again. My only experience with mountains at that point had been the tiny, rounded peaks of the White and Green Mountains of New Hampshire and Vermont, nice mountains in their own right but nothing compared to the Rockies. I could not wait to see the Rockies, to see what John had seen singing about. Finally, in 1978, when I bought my first car, I would get the chance. I hadn't had the car more than a few months when I decided on a whim to head west... to Colorado... to the Rockies... to see what it was all about. Rocky Mountain National Park, the source of the Colorado River, was the first national park I was to visit and at that point I knew that something in my life would change. The mountains and John's music kept drawing me back until at last on one trip I headed decided to follow the river... down through the southern foothills of the Rockies... across the Colorado Plateau... across the Kaibab Plateau... to the Grand Canyon of the Colorado. That was as far as I went... I knew I could spend a lot of time here.
Thank you, John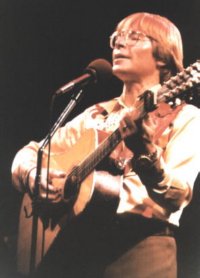 John Denver
1943 - 1997
photo: John Denver in concert

photographer unknown,
used without permission