Funds raised by GRAND CANYON Explorer CD ROM Projects
As of April 1, 1998, almost $5,000 have been raised for the Grand Canyon Trust and the Grand Canyon Pioneers Society as a result of sales for the GRAND CANYON Explorer and TRAILVISION - EXPLORING THE GRAND CANYON CD ROMS.
On behalf of these organizations I would like to thank everyone who has purchased a copy of these CDs. I hope that you have found them useful for exploring the Grand Canyon from the pleasure of your computer as well as in planning your own Grand Canyon adventures.
A very special "Thank You" also goes out to everyone who has contributed to this project.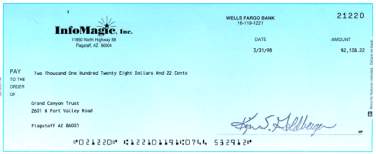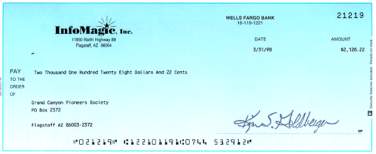 Copyright © Bob Ribokas, 1994-2000, all rights reserved. This publication and its text and photos may not be copied for commercial use without the express written permission of Bob Ribokas.