Southwestern Artist Ed Mell
Ed Mell, who was born in Phoenix, graduated from the Art Center College of Design in Los Angeles with a Bachelor of Fine Arts Degree in Illustration. With this training he went to New York to work as an art director for a prominent advertising agency. He also ran his own illustration studio in New York in the early seventies. He spent two summers at this same time working on the Hopi Indian Reservation in Arizona. He worked with children, teaching in an arts program. This is where he developed his inter est in Southwest landscape.
Mr. Mell returned to Phoenix in 1973 to continue his commercial work in illustration, while painting landscapes of the West on a part-time basis. By 1979 the demand for his fine art was great enough to make the transition to working on his fine art paint ing full-time. Working in oils, he put his main emphasis on landscapes and subjects that depict the West. By 1984 he had expanded his artwork to a three-dimensional medium by introducing bronze sculptures. In the late eighties he applied his angular styl e to florals and Western figurative subject matter. His works can be found in many corporate and private collections, nationally and internationally.
Ed Mell is also well known for the posters that he has produced for the Grand Canyon Chamber Music Festival. He has been producing these for the Festival since 1985, it's second season. Some of the posters that are still availa ble are shown below. To see larger images of each poster you may click on the thumbnail image. Copies of the posters may be ordered through the Grand Canyon Chamber Music Festival.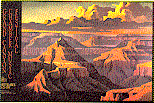 Copyright © Bob Ribokas, 1994-2000, all rights reserved. This publication and its text and photos may not be copied for commercial use without the express written permission of Bob Ribokas.